Set Dynamic Menu, Display Dynamic Menu over Flash
How to make your dynamic menu display properly over Flash?
Dynamic menu can popup menu depending on user interaction, you can move the mouse over the top menu item to view sub menu, or you can click the menu item to popup sub menu item. If your website includes dynamic menu and Flash, which Flash is beneath the menu, maybe you need set navigation menu or Flash to get your wanted effects. Generally speaking, there are three displaying ways between DHTML menu and Flash: dynamic menu display over Flash; web menu show, but flash hide; JavaScript menu show under Flash. Let's check them out:
Dynamic menu displays over Flash
Among these three displays, this is the best way to display web menu and Flash at the same time. The DHTML menu shows over the Flash, you can see both clearly. Let's learn it now:
keep DHTML menu in original status.
Set Flash in Dreamweaver. Choose Flash, and click the button "Parameters..." in properties panel; in the open dialog, input "

wmode

" in parameter column, and enter "

opaque

" in value column.





Dynamic menu displays, but Flash hides
In this method, navigation bar will display fully, including the top menu item and sub-menu, but Flash will be hided when sub menu appears. Follow us to get it:
keep Flash in original status.
Set web menu in Sothink DHTML Menu, choose "Global > Advanced" to check the option "Flash movie or other ActiveX Object".


Dynamic menu displays under Flash:
This is normal drop down menu and Flash without any setting. In this web menu, the sub-menu is hided by Flash, we can't see the full navigation bar on the website.
The first display is the ideal result between dynamic menu and Flash, right? Download Sothink DHTML Menu and build drop down menu to get the same display.
- Navigate website clearly by dynamic menu

DHTML Menu is an easy-to-use drop down maker. It can create SE friendly web menu, JavaScript menu and navigation bar for website in minutes. For beginner, build professional navigation bar from rich templates and styles; for expert, fully customize the menu. The best navigation bar is produced by DHTML Menu.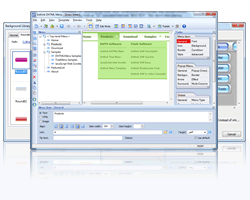 100% Clean - No need to worry about installing unwanted spyware or adware. Uninstallation is completely supported.


Life-time Free Support - Send an email to our customer service team at support@sothink.com whenever you need help.


Risk Free Guarantee - Shop safely in our secure online store. Your data and personal information are protected.