Company logo maker, inspiration from company Logo
30 Creative Company Logo Designs for Inspiration
Company Logo is the distinctive logo design, it symbolizes the philosophy and objective of the company. As an excellent company logo, all the information must be represented in logo design for inspiration, including company industry, enterprise spirit and culture.
The successful company Logo has distinct corporate identity, which brands the product or business in a much better way. Nowadays, the business owners are so much cautious about company logo, the creative and decent logo design are welcomed.
Besides logo design, the logo color is anther crucial factor in company logo. Color itself represents the certain industry and spirit, such as green can be used for biology industry, and it represents youthful spirit.Here places 30 creative company logos based on the color, let's view them:
These green company logos are mainly composed of text and image, and the styles of logo design are vivid, decent or business. The deep or light green company logo design suites for the various industries.
The company logos apply blue as main color in logo design, which are usually used for business logo. The bule company logos make the sense of reliability. Of course, you can let this bule company logos cute.
The red company logo gives the sense of warmful and energetic. The bright color of company logo design delight the eyes, and impress deeply. The creative company logos are popular among the art industry.
All above-shown company logos are selected from the built-in templates of Sothink Logo Maker.
Sothink Logo Maker helps even novice fast DIY professional logo designs like company logo. Rich templates, preset color & effect styles, and well designed logo images will fully satisfy your needs and offer endless amount of logo design possibilities.
- Create Company logo in steps

An intuitive and extremely simple company logo maker to fast design high-quality logo design, business logo, etc. Rich built-in templates, preset color & effect styles, and well logo design images will fully satisfy your needs and make your logo unique. The great editing capability also ensures a smooth and pleasant logo design process.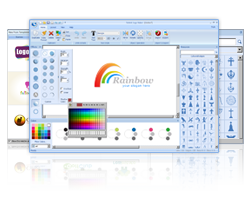 100% Clean - No need to worry about installing unwanted spyware or adware. Uninstallation is completely supported.


Life-time Free Support - Send an email to our customer service team at support@sothink.com whenever you need help.


Risk Free Guarantee - Shop safely in our secure online store. Your data and personal information are protected.
Quick Links