Letterhead Logo -- Print Logo on Letterhead
How to Create a Letterhead Logo with Sothink Logo Maker?
Letterhead is a sheet of stationery with name and address of the company printed at the top, and it is the foundation of your professional business identity. Letterhead is usually paired with matching custom printed envelopes, note pads and labels. Letterhead Logo, just as the name implies, is a logo which can be used as the letterhead. Besides logo design, Sothink Logo Maker is capable of making an appropriate size of letterhead for writing letters if only the image size is the same with letterhead.
There are two methods to get the wanted letterhead logo:
Set canvas size as letterhead size
In Sothink Logo Maker, you can set canvas size as letterhead size; after letterhead design is finished, click "File > Export Logo..." to export the image directly. Just doing few steps with logo maker builder, a well-design letterhead logo will be come out.
| | |
| --- | --- |
| Letterhead Size | Canvas Size |
| | |
Export image size as letterhead size
In Sothink Logo Maker, you can click logo menu and choose Export to open the dialog "Export Logo", and export image to the appropriate size of letterhead. In below figure, you will see "600*800" which is the canvas size in logo maker; and "Width: 300, Height: 400" can be set depend on image size, which is uniform scale style for zoom in or zoom out. Also, you can choose image quality in logo maker, 100 is the best letterhead image quality.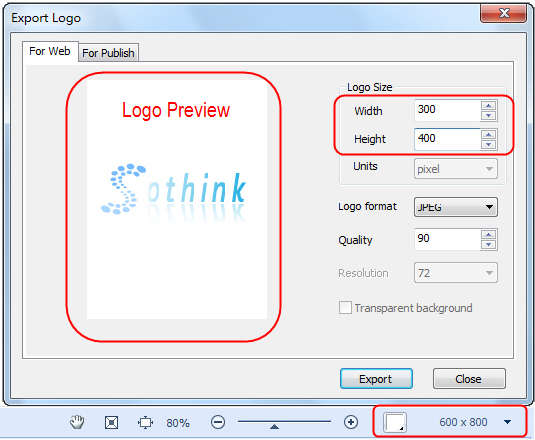 Print the Letterhead Logo
After exporting letterhead image by logo maker, maybe you want to print the letterhead logo. Just open this logo in any image viewer or image editor, and click the command "Print" to print the letterhead logo.
Quick Links