- Create Flash Animation by SWF Quicker

As the top animation software, Sothink SWF Quicker has the same vector editing capability as Adobe Flash does but costs less. This animation software supports editing an existing SWF or creating professional Flash from scratch. It can also export Flash movies to SWF, EXE, GIF, AVI, or Flash Lite 2.0/2.1/3.0. Moreover, the animation software supports Flash V6, V7, V8, Flash CS3 (V9), Flash CS4 (V10).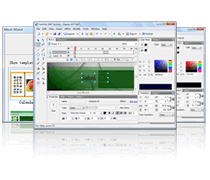 How to get the animated GIF from Flash with this Animation software?
If you want to get the GIF file from the existing Flash, please follow the steps below:
Step 1. Launch your Sothink SWF Quicker and import the existing Flash into the animation software.
Step 2. Click "Preview" button to check whether the Flash works well.
Step 3. Go to the menu bar of this animation software, and click "File" > "Export" > "Export Movie".
Step 4. In the pop-up window, choose the save path and select "Animated GIF" as the saved format.
Step 5. You will get the animated GIF file from the Flash in your save folder.
Main Features
Easy-to-use Flash Editor

The Animation Software offers lots of built-in animated effects and various professional templates such as Flash Album, Banner, Navigation Button and Slide Show.

Perfect SWF Editor

The Animation Software supports importing SWF and editing almost all SWF elements such as text, image, shape, background music, link, etc.

Advanced Compatibility

This Animation Software can create and edit SWF of Flash V6, V7, V8, Flash CS3 (V9), Flash CS4 (V10).

Powerful Vector Editing Capability

The program provides a group of tools for you to create vector graphics and texts by means of What You See Is What You Get.

Rich Output Formats

The Animation Software supports exporting Flash movies to SWF, EXE, GIF, AVI, or Flash Lite 2.0/2.1/3.0.

100% Clean - No need to worry about installing unwanted spyware or adware. Uninstallation is completely supported.


Life-time Free Support - Send an email to our customer service team at support@sothink.com whenever you need help.


Risk Free Guarantee - Shop safely in our secure online store. Your data and personal information are protected.
Review
by Download3000.com

"Sothink SWF Quicker, a good priced and fully featured tool that helped me get started really quick, so I solved all my problems and never looked back!"

by TUCOWS.com

"This is a fully functional Flash movie maker. It supports functionalities including shape design, motion tween creation, guideline, mask layer, stream and event sound, frame label, setting movie clip instance name."
Awards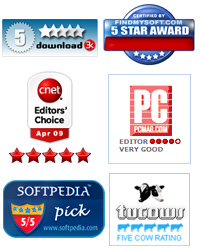 System Requirements

Windows 7 32/64-bit
Windows Vista 32/64-bit
Windows XP 32/64-bit
Windows Me/2000
Windows 98/NT 4.0
Windows Server 2003 32/64-bit
Windows Server 2008 32/64-bit