Dear all
We are so glad to announce the new release of
Sothink SWF Decompiler V7.4 Build 5320
. The new version adds two new language interfaces. Besides, an important bug has been fixed based on the previous version.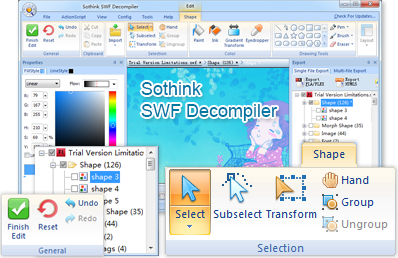 New Feature
:
*
Add Spanish and Arabic language interface.
Fixed Bug
:
*
Crashed when installing the program on Win8.
Please download the latest version of Sothink SWF Decompiler at the following link.
http://www2.sothink.com/download/swfdec.zip
Buy Sothink SWF Decompiler
during Feb 10th – 14th, 2014 and receive a
50% off coupon
for
Sothink SWF Editor
and
SWF Catcher
.
You may also like some
Flash 3d animated graphics
for your Flash design work.
http://www.sothink.com/3d-animated-graphics.htm
For more information, please refer to the product page.
http://www.sothink.com/product/flashdecompiler/
Have any questions on the program, please feel free to contact us at
support@sothink.com
.
Enjoy your day!