Sothink HTML Editor 2.5

Sothink HTML Editor Free Version (previous name is CutePage) supports code and visual editing modes as well as site management, built-in preview and file upload. Built-in visualized editing window. WYSIWYG editing forms, tables, frames, links, images, etc.

Built-in preview browser or pick the browser's button to go to the outside browsers.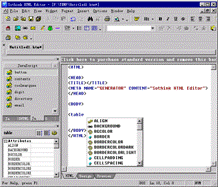 F.A.Q of Sothink HTML Editor 2.5
What are the differences between Sothink HTML Editor and CutePage?
-- Briefly, Sothink HTML Editor is the CutePage. We have changed the name.
Can Sothink HTML Editor work well with CutePage widgets?
-- Yes, and we will changed the CutePage widgets to Sothink Web widgets.
What is Widget Tool?
-- Widget tool is used to create decorations and special effects for your page: e.g. dynamic button, sliding menu, etc. These Widget tools are all integrated within CutePage/Sothink HTML Editor. With these tools, the effect you want can be added to your page just by clicking. Coding is not required. All templates and samples are provided in these tools.
Do you supply tech support for it as it is a freeware?
-- Surely we supply, but the users who have got professional license will have a priority to get support, we will try to satisfy other users. Please contact at support@sothink.com to send us your question.
I have added a widget into a page with Sothink. Now I need to upload the page. Which file I need to upload?
-- When you add a widget using CutePage, you will find there is a "_pgtres" folder under the the directory this HTML file is saved. All the image, audio, class or js files used in the widget are saved in this folder. So when you upload the widget page, please upload all the files in this folder except the *.pgt file.
Why do I get a warning when switching from the HTML editing mode to the visual mode?
-- When you switch from the code editing mode to visual mode, the HTML code will be reformatted because CutePage/Sothink HTML Editor has used Microsoft DHTML Editing Component. When switch view of windows, the component will reformat the code. But this will not affect the content of your page. To get rid of the warning box, check "Don't warn me again" at the bottom of the warning box.
Why don't see Widget in FrontPage visual edit mode?
-- Every Widget is included between tag "<!--webbot box="HTMLMarkup" startspan -->" and tag "<!--webbot box="HTMLMarkup" endspan -->". That's why you can't see it. If a Widget is not included between these tags, FrontPage will insert some unorderly information into the Widget HTML text. If you want to modify Widgets in FrontPage, please use HTML text edit mode to make modification in the WYSIWYG HTML editors and keep the whole HTML texts of Widget.
How to move Widget in other visual homepage editor tool?
-- If you use some WYSIWYG homepage editor tools such as Netscape Composer and Dreamweaver to work with CutePage/Sothink HTML Editor, when you want to copy, cut or paste a widget, you should choose all the widget codes including Main Parts (code in black color) and Explanation (code in green color). If possible, please use HTML text edit mode to modify the widgets in the WYSIWYG HTML editors and keep the whole HTML texts of the Widget .
Can I share a Widget in multiple HTML files without Gallery?
-- No, you can't. If you want to get more information, please read "Share Widget within many pages" in CutePage/Sothink HTML Editor Help.
I lost my registration code and Widget installment files .What can I do?
-- Please email to support@sothink.com. Tell us the email address you used in registration as well as the registration date. We will check our database and re-mail to you the code and installment files.
How can I reference with other pages in CutePage?
A. Open the web page you like in browser.
B. Then use "View/Source" command, you will see the HTML coding of this page.
C. Save the source code into your local disk.
D. Last, open it in CutePage. CutePage supplies high-lighted Keyword function, so you can follow the tag easily.
Related Products
Support Platform

Win 95/98/Me/Win NT 4.0/Win 2000/Win XP
Recommend Products