DIY a Beautiful and Unique Logo in 5 Minutes
Enjoy Beautiful & Professional Logo Design Samples:
As you know, every company needs a distinctive logo. Having a logo not only gives customers a memorable visual image of your company, it shows that you are a professional, established part of the business community. See the following logo design examples:

To save money and time, I suggest you to DIY logo design, instead of hiring a professional logo designer or finding a logo design firm. Perhaps you are afraid that you have no graphics design experience, and cannot spend much time for mastering computer programs involved in graphics design, such as Photoshop...
Don't worry, no matter you are a novice to logo design, or a professional logo designer already, with a right logo design tool and natural talent for it, you can DIY same logo design as the above samples in just only 5 minutes.
Recommended Logo Design Tool - Sothink Logo Maker
Sothink Logo Maker is a great logo design tool which helps even novice fast DIY professional logo designs like company logo. Rich templates, preset color & effect styles, and well designed logo images will fully satisfy your needs and offer endless amount of logo design possibilities.
Below are some of the benefits of choosing this professional logo design tool.
Wide Use : This logo maker enables you to design company logo, button, banner, header, icon and signature for website, blog, forum, email and more.
Professional: Well designed built-in templates and logo images ensure you a professional-looking logo.
Simple: You can get started easily with this logo maker to DIY your own logo without any professional logo design experience.
Unique: Rich templates, color & effect styles give you endless amount of logo design possibilities.
Free Trial: A 30-day free experience is available to help you make purchase decision.
How to Design Logo by Sothink Logo Maker?
Step 1: Select a preferred logo template. Your logo design will be based on this template with changes on images and texts.
Step 2: Edit logo image: You can choose the image from Resource library, or import SWF file to extract some desired ones.
Step 3: Edit logo text: Please directly enter the text that you want to appear on your logo.
Step 4: Set image & text styles: There are plenty of preset color & effect styles which can be directly applied to the object. Moreover, the free customization gives you more personalized options.
Step 5: Export your logo to JPG, PNG or BMP format as needed.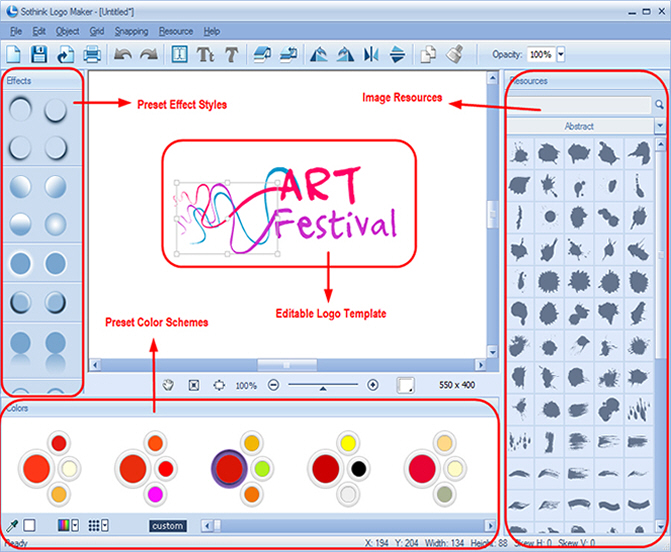 - DIY professional logo design in minutes

Sothink Logo Maker upgrades your logo design experience by offering 190 templates, 2500+ searchable vector graphics and 40+ text fonts. Besides, there are 400 well-chosen color schemes filtered by color and category which keep you from complicated color palettes and color matching rules.

Effects like gradient, shadow, bevel, glow, reflection & hollow can be accessed by one click. You can also import external SWF files and extract vector graphic elements for reuse.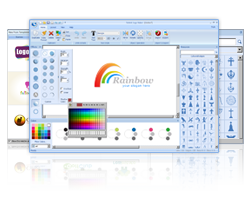 100% Clean - No need to worry about installing unwanted spyware or adware. Uninstallation is completely supported.


Life-time Free Support - Send an email to our customer service team at support@sothink.com whenever you need help.


Risk Free Guarantee - Shop safely in our secure online store. Your data and personal information are protected.
Logo Maker Basic
Logo Maker Pro