Decompile Adobe CS5 by the Upcoming SWF Decompiler V6
Adobe CS5 Will Change Flash Developers' Life
Adobe is quite optimistic about Adobe CS5 release. Adobe CEO, Shantanu Narayen, in his interview with the Fox Business News said: "All the customers that we have talked to are incredible excited about the upcoming launch". One of the aspects that make this launch particularly meaningful for Adobe is that they are updating flash player so that their "publisher partners and customers can actually distribute their content to the variety of devices that are emerging".
Adobe CS5 Main Features:
Adobe CS5 offers many appealing new features, and main new features are as follows:
Packager for iPhone — Publish ActionScript 3® projects in Adobe Flash Professional to run as applications for iPhone. Adobe® Flash® Professional CS5 will include a Packager for iPhone, a capability included with the Adobe AIR® 2 SDK, that will let you publish ActionScript 3 projects to run as native applications for the iPhone OS.
New text capabilities via the Text Layout Framework (TLF) — Get unprecedented text control and creativity with projects created in Flash. Advanced styling and layout, including right to left text, columns, and threaded text blocks, let you work with text in Flash like never before.
XML based FLA files — Manage and modify project assets using source control systems and enable teams to easily collaborate on files.
Code Snippets panel — Choose prebuilt code that can be injected into projects to increase interactivity and also reduce the ActionScript 3 learning curve.
Flash Builder™ integration — Use Adobe Flash Builder software as your ActionScript editor within projects in Flash.
Improved ActionScript editor — Improve productivity with custom class code hinting and completion.
- Easily decompile SWF of Adobe CS5

Sothink SWF Decompiler helps you to convert SWF to FLA, SWF to FLEX, get XFL from Flash CS5 swf and easily extract Flash resources like images, sounds (mp3, wav), videos (flv), ActionScript, etc.

SWF Decompiler V5.5 supports Flash 6/7(MX 2004)/8/9(CS3) /10(CS4)/CS5 and ActionScript 3, and globally search all ActionScript is supported. It is multilingual and user-friendly.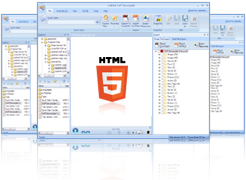 Review
by Onekit.com

"Sothink SWF Decompiler is a really professional tool allows catching and saving web Flash animation for further editing by special applications."

by Download.com

"Every element in a Flash movie is fodder for Sothink SWF Decompiler. It breaks Flash down into its component parts, including sound, images, fonts, buttons, and even action scripts."
Awards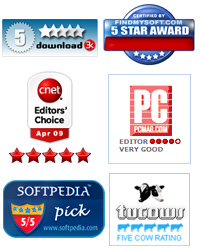 System Requirements

Windows 7 32/64-bit
Windows Vista 32/64-bit
Windows XP 32/64-bit
Windows Me/2000
Windows 98/NT 4.0
Windows Server 2003 32/64-bit
Windows Server 2008 32/64-bit