Best SWF Elements Extractor

- Extract FLV from SWF by Sothink SWF Decompiler

As a powerful SWF elements extractor, Sothink SWF Decompiler enables you to extract FLV from SWF quickly. You also can easily extract other SWF elements like shape, sounds, images, sprites, fonts, texts, ActionScript, etc.

With Sothink SWF Decompiler, you can extract FLV from SWF with the most cost-effective way. You can also decompile SWF to FLA or FLEX project.

In addition to extracting FLV from SWF, Sothink SWF Decompiler offers various functions designed for you, such as capture and save Flash movie online from IE or Firefox.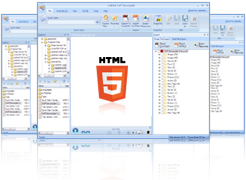 Who Need Sothink SWF Decompiler to Extract FLV from SWF?
Who Need this SWF elements extractor? You Do if You Ever:
Want to extract FLV from SWF.
Wanna create your own Flash works, but couldn't find enough resources.
(Solution: extract any SWF elements from well-designed Flash SWF)
Have to edit Flash movie in Adobe Flash, but lost the original FLA file.
(Solution: convert SWF to FLA)
Have to edit Flash in Adobe Flex Builder 3, only to find that your original Flex project files were lost.
(Solution: convert SWF to FLEX project)
How to Extract FLV from Flash SWF?
You can extract FLV file from Flash SWF in 3 steps, follow the tutorials to get it:
Step 1: Play Flash movie and view resources in SWF extractor
Launch Sothink SWF Decompiler, and browse to open the Flash movie from the "Explorer" window. The Flash movie will play in the preview window.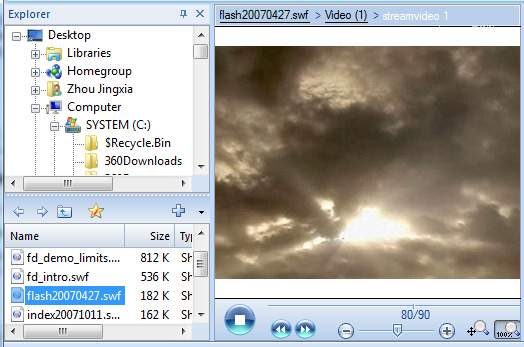 Step 2: Preview FLV resource and select file needs to be exported
Enter the "Export" panel, you can check the "Video" folder to preview all the video files. And double-click this video, you can play video in preview window. Check the required video to export it.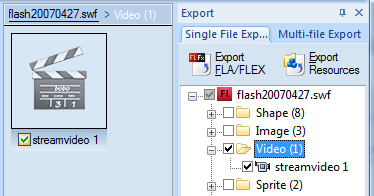 Step 3: Export FLV resource and set the export format
After picking up the wanted FLV resources, click Export Resource" in "Single File Export" tab to set exporting resources. Set the path for the exported FLV file; also, customize the file format for the resource in this dialog.
Complete all the settings, click "OK" to start exporting. At last, enter the specified directory to find the extracted FLV resource.

100% Clean - No need to worry about installing unwanted spyware or adware. Uninstallation is completely supported.


Life-time Free Support - Send an email to our customer service team at support@sothink.com whenever you need help.


Risk Free Guarantee - Shop safely in our secure online store. Your data and personal information are protected.
Review
by Onekit.com

"Sothink SWF Decompiler is a really professional tool allows catching and saving web Flash animation for further editing by special applications."

by Download.com

"Every element in a Flash movie is fodder for Sothink SWF Decompiler. It breaks Flash down into its component parts, including sound, images, fonts, buttons, and even action scripts."
Awards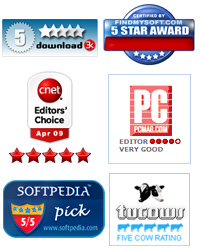 System Requirements

Windows 7 32/64-bit
Windows Vista 32/64-bit
Windows XP 32/64-bit
Windows Me/2000
Windows 98/NT 4.0
Windows Server 2003 32/64-bit
Windows Server 2008 32/64-bit