SWF extractor, get resources with SWF extractor
Extract All the Images and Sounds Resources from Flash in 3 Steps
Flash movie usually contains beautiful images, pleasant music and magic animation effect. Many Flash fans and Flash designers collect the Flash animations because these stunning resources included in Flash movie attract them. In fact, the resources can be extracted to single image, sound, text file in smaller size, and they can be re-used for art creation. How to do that? SWF extractor tool helps you to get the resources.
About SWF Extractor
SWF extractor is a professional Flash decompiling tool, it can easily extract Flash resources like images, sounds (mp3, wav), videos (flv), ActionScript, etc. Convert SWF to FLA, SWF to FLEX? No problem, this SWF extractor recovers FLA and FLEX project for re-editing. Even, export SWF resources in batch mode, so powerful it is!
SWF Extractor is an easy-to-use Flash decompiler. You can decompile Flash SWF to FLA and extract the resources with user-friendly interface. SWF extractor auto-recognize system language for multilingual, snapshot the playing Flash movie. SWF Catcher downloads online Flash from IE or Firefox; the built-in Flash player can play SWF/FLV/F4V.
Extract Resources in 3 Steps with SWF Extractor
Just 3 steps, SWF Extractor can fast export all the images and sounds resources form Flash. Follow the steps to see how simple it is:
Step 1: Capture the Flash movie from IE or Firefox.
Open the webpage which includes Flash in Internet Explorer, and select Tools > Sothink SWF Catcher to download Flash movie.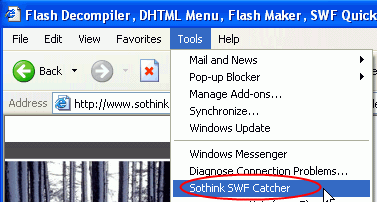 Open the webpage which includes Flash in FireFox, and select Tools > Sothink SWF Catcher to download Flash movie.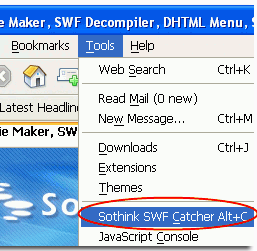 The details about how to capture flash animation tutorial with assistant tool of SWF extractor.
Step 2: Play Flash movie and view resources in SWF extractor
Launch SWF extractor, and browse to open the Flash movie from the "Explorer" window. The Flash movie will play in the preview window.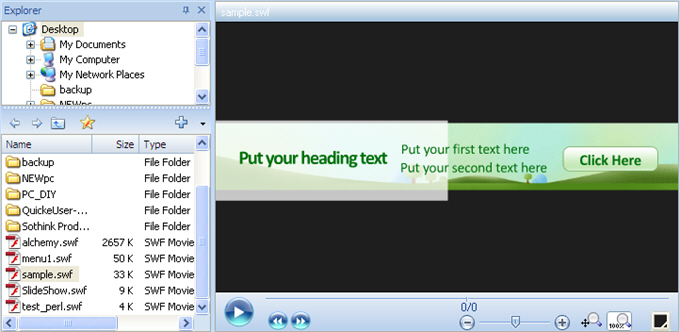 Expand the resources from "Export " window, check the resource folder to view the resource thumbnails. And then, check the required resources.

Step 3: Export resources with SWF extractor
After picking up the wanted resources, click "File > Export Resource" to set exporting resources. You can set the path for the exported image and sound files; also, customize the file format for the resource in this dialog.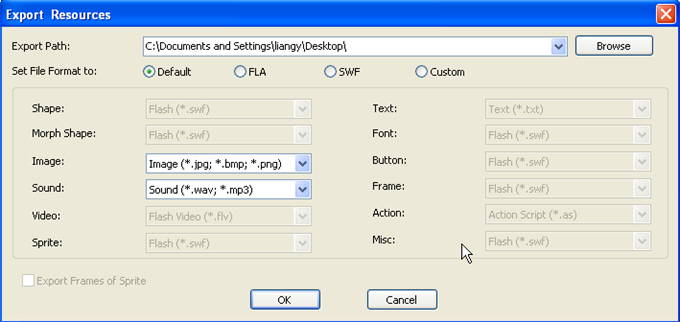 Complete all the settings, click "OK" to start exporting. At last, enter the specified directory to find the extracted images and sounds resources.
- Export FLA by SWF Decompiler

The most stable and feature rich Flash decompiler. Convert SWF to FLA or FLEX precisely. Easily extracts Flash resources like images, sounds, videos, etc. Supports Flash CS 3/ 4/ 5 and ActionScript 3. The first SWF decompiler to support XFL file.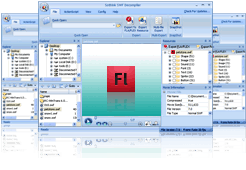 Review
by Onekit.com

"Sothink SWF Decompiler is a really professional tool allows catching and saving web Flash animation for further editing by special applications."

by Download.com

"Every element in a Flash movie is fodder for Sothink SWF Decompiler. It breaks Flash down into its component parts, including sound, images, fonts, buttons, and even action scripts."
Awards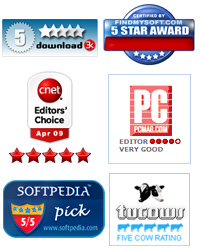 System Requirements

Windows 7 32/64-bit
Windows Vista 32/64-bit
Windows XP 32/64-bit
Windows Me/2000
Windows 98/NT 4.0
Windows Server 2003 32/64-bit
Windows Server 2008 32/64-bit