How to decompile Flash CS5 movie and get XFL file?
Sothink SWF Decompiler is the first Flash decompiler that supports decompiling Flash CS5 movie and getting XFL format source files. You can then open the XFL file in Adobe Flash CS5 environment and make further alterations. It is the perfect solution for you to recover Flash CS5 XFL files from SWF.
What is XFL? Here is a short explanation. (Skip this paragraph if you've got familiar with XFL).
XFL is a new file format available to Flash Professional CS5. Similar to the interchange file format available in Adobe Creative Suite 4, XFL files store the same information as a FLA file but in XML format.
See following tutorial to learn how to get XFL file from Flash CS5 SWF.
Recommended XFL decompiler: Sothink SWF Decompiler 6.0
Download Sothink SWF Decompiler for free experience >>
Step 1: Decompile the Flash CS5 SWF to FLA
1. Launch Sothink SWF Decompiler, and open the target Flash CS5 SWF that you want to decompile XFL.
2. Go to the right panel, choose "Single File Export".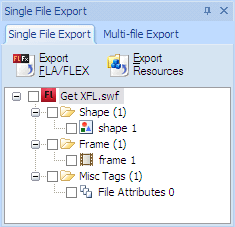 3. Now you will find two export options: Export FLA/FLEX and Export Resources. Please choose "Export FLA/FLEX", and you will see the following dialog box.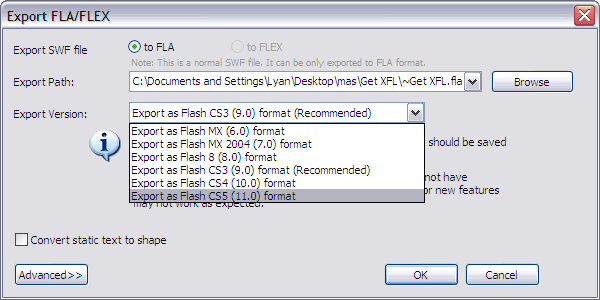 Specify the path to save the exported FLA file. In the "Export Version" drop-down list, please choose "Export as Flash CS5 (11.0) format", and then click OK.
4. Now the target Flash CS5 SWF (Get XFL.swf) has been exported as FLA file (~Get XFL.fla), and you can find it in the path you specified.

Step 2: Get XFL File from the Decompiled FLA
1. Find the exported FLA file and rename its file extension from "fla" to "zip". See the following, "~Get XFL.fla" is changed into "~Get XFL.zip".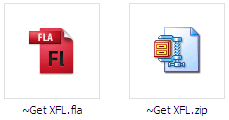 2. Unzip the "~Get XFL.zip" file, and you will get all the XFL, XML files and resources.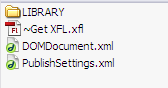 3. Now, you have decompiled the target SWF into XFL successfully, and you can open this XFL file in Adobe Flash CS5 for further alterations.

- Decompile Flash CS5 and Get XFL

The most stable and feature-rich XFL decompiler for you to convert SWF to FLA or FLEX precisely. You can also easily extracts Flash resources like images, sounds, videos, etc.

This XFL decompiler supports Flash CS3/CS4/CS5 and ActionScript 3, you can decompile Flash CS5 movie and get XFL file. Moreover, it is multilingual and user-friendly, the batch mode export will also save your time.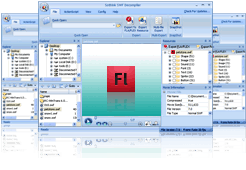 Review
by Onekit.com

"Sothink SWF Decompiler is a really professional tool allows catching and saving web Flash animation for further editing by special applications."

by Download.com

"Every element in a Flash movie is fodder for Sothink SWF Decompiler. It breaks Flash down into its component parts, including sound, images, fonts, buttons, and even action scripts."
Awards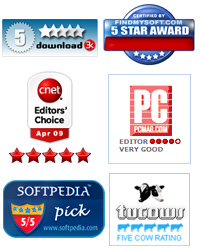 System Requirements

Windows 7 32/64-bit
Windows Vista 32/64-bit
Windows XP 32/64-bit
Windows Me/2000
Windows 98/NT 4.0
Windows Server 2003 32/64-bit
Windows Server 2008 32/64-bit