DHTML Menu Lite

V8.1

About Sothink DHTML Menu Lite

Sothink DHTML Menu Lite is the lite version of Sothink DHTML Menu. It enjoys the same user interface as the standard version while supports the necessary and easy-using functions. It is for those who make non-profit or personal websites and would like to pay less to make simple JavaScript drop down menu.
DHTML Menu Lite Features
The following is a comparison table which shows you the differences between Sothink DHTML Menu Lite and Sothink DHTML Menu. It will help you decide which one suits you most.

STD.: Sothink DHTML Menu (Standard Version)
Features

LITE

User Interface

Keyboard Navigation

Disable items and separators

Tab Menu

Image Library

Background with rounded corner

Built-in Templates

Cross Browser Compatibility

Preview Settings

Preview in Browser

Supports Any Doctypes

Supports UTF-8

Publishing

Non-English Language Supported

Dynamic Database-driven

Free Add-ins for DW, EW, FP and Golive

Search Engine Friendly Code Maker

Generate Sitemap

Google XML Sitemap

W3C Valid XHTML 1.0

Site Navigation Generator


Manage Templates

Apply Template to Menu

Multiple Menus on the Same Page

Copy & Paste Items in One Program

Copy & Paste Items in Different PGT Files

Import files of Tree Menu (*.stm)

Menu Item Properties

General - Text

General - HTML

General - Image

Font

Icon

Condition

Style

Advanced

Popup Menu Properties

Popup Item General Property

Popup Direction

Background

Border

Arrow

Effect

Surround

Multi-Column

Global Properties

General Property

Menu Type - Static

Menu Type - Float

Menu Type - Custom

Menu Type - Context Menu

Cursor

Highlight

Cross-Frame

Advanced - Encode Special Characters

Advanced - Windowed Element

Link Prefix

Auto Scrolling
DHTML Menu Templates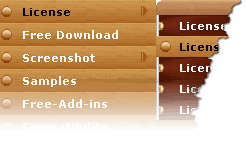 For saving time and energy, Sothink Menu Templates offers pre-designed DHTML menus for you! Get well-designed navigation menu, exquisite images and source file (including authoring and PSD file), and then include the menu to your webpage directly. Building menu is so easy now.
Each series of DHTML menu templates has various colors in the package.
Hurry up, pick up your favourite DHTML Menu templates to match with your web site!
Learn More about DHTML Menu
DHTML Menu Licenses
DHTML Menu Lite Version's license allows you to create menus for unlimited web sites.

Designer License

($65): Personnel, webmasters, web designers can order this license for personal use.

1. You may install and use one copy of the SOFTWARE on a single computer, device, workstation, terminal, or other digital electronic or analog device ("Device"). You may make a second copy of the SOFTWARE and install it on a portable Device for the exclusive use of the person who is the primary user of the first copy of the SOFTWARE Product. At no time may the SOFTWARE be used by other individuals than the licensed developers.

2. The menus generated by this SOFTWARE can be used with only one web site, provided they are developed solely by the licensed developers.
News
Package Special Offer: All DHTML Menu Templates only cost $69.95.
DHTML Site Navigation Suite: Buy DHTML Menu together with Tree Menu.
Only $99.Save $49.95!
Sothink DHTML Menu 9.2 is released! Support Internet Explorer 8 now!
Sothink JavaScript Web Scroller 2.1 is released! Support Internet Explorer 8 now!
Related Products
System Requirements

Windows 2000
Windows XP
Windows Vista
Product Info
File Size

: 4.31M

Latest version

: 8.1

Build number

: 70827

Release date

: 28th Aug, 2007

Uninstall

: Supported
Recommend Products