Sothink ActionScript Viewer

Sothink ActionScript Viewer, also called Sothink SWF Decompiler, is the best SWF decompiler and resource extractor for Flash 6, MX 2004, 8, CS3 and CS4. This ActionScript viewer can open any SWF file and show its contents including ActionScript, shape, sounds, images, sprites, fonts, texts, etc. Sothink ActionScript Viewer is fully compatible with ActionScript 3.0.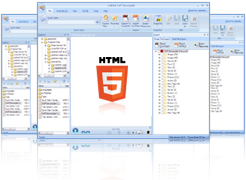 What Is ActionScript?
ActionScript is an object-oriented programming (OOP) language that is designed specifically for Web site animation. The ActionScript scripting language lets you add complex interactivity, playback control, and data display to your application. ActionScript was initially designed for controlling simple 2D vector animations made in Adobe Flash (formerly Macromedia Flash). Later versions added functionality allowing for the creation of Web-based games and rich Internet applications with streaming media (such as video and audio).
Features of Sothink ActionScript Viewer
Compatible with ActionScript 2 and ActionScript 3;
Decompile and display ActionScript in Resources Panel. When decompiling ActionScript 3, support showing AS class structure like folder-tree according to its path in package.
Decompile SWF to FLA/SWF to FLEX project, and extract resources in batch mode;
Support Flash 6, Flash MX 2004 (V7), Flash 8, Flash CS3 (V9) and Flash CS4 (V10);
Export ActionScript file in AS, BIN or HTML format;
Multi-Language interface is available, including English, German, French and Traditional Chinese;
Capture Flash movie, and capture Flash game online from IE or Firefox by SWF Catcher, and save SWF movies into local disk.