Adobe Flash Decompiler

Sothink SWF Decompiler, the best Adobe Flash decompiler and resource extractor for Flash 6, MX 2004, 8, CS3 and CS4. This Adobe Flash decompiler can open any SWF file and show its contents including ActionScript, shape, sounds, images, sprites, fonts, texts, etc. With this Adobe Flash decompiler, you can extract ActionScript to AS, BIN or HTML, image to GIF/JPG, video to FLV, etc.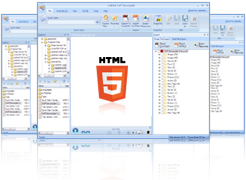 What Is Adobe Flash?
Flash, a popular authoring software developed by Macromedia (purchased by Adobe in 2005), is used to create vector graphics-based animation programs with full-screen navigation interfaces, graphic illustrations, and simple interactivity in an antialiased, resizable file format that is small enough to stream across a normal modem connection. The software is ubiquitous on the Web, both because of its speed (vector-based animations, which can adapt to different display sizes and resolutions, play as they download) and for the smooth way it renders graphics. Flash files, unlike animated but rasterized GIF and JPEG, are compact, efficient, and designed for optimized delivery.
Features of Adobe Flash Decompiler
Decompile SWF to FLA/SWF to FLEX project, and extract resources in batch mode;
Decompile the standard EXE made by Adobe Flash to FLA format;
Compatible with ActionScript 2 and ActionScript 3;
Support Flash 6, Flash MX 2004 (V7), Flash 8, Flash CS3 (V9) and Flash CS4 (V10);
Extract elements into various formats, including shapes, sounds, images, sprites, fonts, texts, ActionScript, etc.;
Export ActionScript file in AS, BIN or HTML format;
Export the video file in FLV format from Flash movie;
Multi-Language interface is available, including English, German, French and Traditional Chinese;
Capture Flash movie, and capture Flash game online from IE or Firefox by SWF Catcher, and save SWF movies into local disk.