Decompile SWF Files by Sothink SWF Decompiler

Sothink SWF Decompiler is the leading SWF decompiler for you to decompile SWF files or extract SWF resources from Flash 6, MX 2004, 8, CS3 and CS4. You can decompile SWF files and export the SWF resources including ActionScript, shape, sounds, images, sprites, fonts, texts, etc. This SWF files decompiling tool is fully compatible with ActionScript 3.0.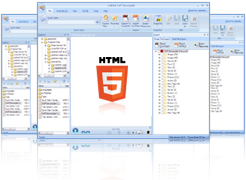 What Is SWF?
The file format SWF (originally standing for "Small Web Format", later changed to "Shockwave Flash" by Macromedia, then again changed back to Small Web Format when the company chose to have the phrase "Shockwave" only refer to Director, pronounced swiff or "swoof") is a partially open repository for multimedia and especially for vector graphics, originated with FutureWave Software and has come under the control of Adobe. Intended to be small enough for publication on the web, SWF files can contain animations or applets of varying degrees of interactivity and function.
Features of Decompiling SWF Files
Decompile SWF files to FLA/FLEX project, and extract resources in batch mode;
Compatible with ActionScript 2 and ActionScript 3;
Decompile and display ActionScript in Resources Panel. When decompiling ActionScript 3, support showing AS class structure like folder-tree according to its path in package.
Support Flash 6, Flash MX 2004 (V7), Flash 8, Flash CS3 (V9) and Flash CS4 (V10);
Export ActionScript file in AS, BIN or HTML format;
Multi-Language interface is available, including English, German, French and Traditional Chinese;
Capture Flash movie, and capture Flash game online from IE or Firefox by SWF Catcher, and save SWF movies into local disk.
How to Decompile SWF Files?
Step 1: Launch Sothink SWF Decompiler, open the SWF file you want to decompile from the left explorer panel.
Step 2: Now the selected SWF file will be automatically decompiled. Go to the "Resources Tree" panel and you will see all the decompiled Flash resources.
Step 3: You can click "Export Resources" button to export any SWF elements.
Step 4: You can click "Export FLA/FLEX" button to export the decompiled SWF as FLA or FLEX project.