Flash Decompiler Review

Sothink SWF Decompiler is a professional Flash decompiler and resource extractor for Flash 6, MX 2004, 8, CS3 and CS4. This Flash decompiler can open any SWF file and show its contents including ActionScript, shape, sounds, images, sprites, fonts, texts, etc. Since its perfect performance, Sothink SWF Decompiler has gained high evaluated Flash decompiler review from users. Let's share!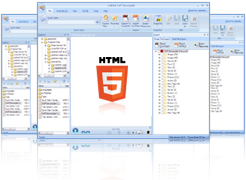 Flash Decompiler Review Info
"Definitely the leading software for Flash decompilers. Even the 15-day trial works."
--Daniel

"The best decompiler out there. I bought the cheaper 40 dollar one first and it was riddled with programming errors. With this one it is 100% WYSIWYG. I am soooo glad I spent the money on this. What a time saver and a way to recover lost .FLA\'s from previous peoples .swf files. AWESOME!!!"
--Calvin Silverbow

"Hi It's not often that I feel the need to say thanks to a software company. But the swf decompiler software really got me out of a potentially bad situation. My computer crashed at work and the .fla file could not be retrieved. So I bought your software and was able to edit the .swf that I had already published to the web. So the website was all finished for the launch party last night! So I just thought I would say thanks!"
--Andy Stubbs

"Your program is a good tool for extracting .swf and .exe files, it make Flash easy..."
--Michael
Why Gained High Evaluated Flash Decompiler Review?
See the powerful features of Sothink SWF Decompiler:
Support Windows 7.
Decompile SWF to FLA/FLEX project, and extract resources in batch mode.
Compatible with ActionScript 2 and ActionScript 3.
Support Flash 6, Flash MX 2004 (V7), Flash 8, Flash CS3 (V9) and Flash CS4 (V10).
Provide multi-language interface, including English, German, French and Traditional Chinese.
Capture Flash movie online from IE or Firefox by SWF Catcher, and save SWF movies into local disk.