Graphic Design Software
Another Role of Sothink Logo Maker Pro
This is not just a logo maker! The creative graphic design software gives a quick start point to your project by offering primary hand-drawing tools, professional color schemes, live effects and free built-in symbols, which make the whole graphic design process fairly easy and comfortable experience.
Graphic Design Software :
Create Graphics through Fast Workflow
Graphic design program offers formatting painter that enables you to copy one graphic style to another in clicks. You can deal with complex layer alignment with only clicks as well.
• Fairly Easy
Graphic Design Software :
Make Graphics as Inspired and Original
The graphic design software program offers handy drawing pen and pencil that help you create website and business graphic design from blank canvas. Design graphic as distinctive and original.
• Creative
Graphic Design Software :
Design Graphics with Quick Tools and Effects
The graphic designer software contains efficient panels and interface. You can find target tool quickly and apply them for any of your own graphic and image design easily.
• Express
Graphic Design Software :
Pick Colors under Expert Color Theories
Graphic designing software will guide you to become a color-matching master. Powerful color wheel gives out thousands of color schemes for graphics. Choose colors like experts.
• Professional
Graphic Design Software :
Select from Rich Templates and Symbols
We have embedded abundant of templates, symbols and special effects into graphic arts software. They will give you substantial graphic and vector design inspiration.
• Ready-made
Master Color Schemes

Preset professional color schemes for any DIY design. You determine dominant color and pattern in Color Wheel, we list all combinations of four colors in six styles, from monochromatic, triad to analogues and etc. There are thousands of built-in color schemes for option.
Plentiful Logo Effects

Rich live effects for graphic object have been listed in Effect Panel. Mouse over it to get instant preview and click to apply. The unique converting text to shape feature provides a quick text handling and enables you to combine scattered letters of text as any way you like.
Smart Designer Workflow

The vector graphic software offers friendly user. You can easily duplicate any object style in clicks with formatting painter. The strong Layout panel helps you manage complex graphic layers easily and adjust multiple objects in batch.
Expert Drawing Tools

You're free to draw lines and circles using handy Pencil and Pen tools. And you can drag, scale and rotate objects and get WYSIWYG drawing. DIY painting from blank canvas makes your graphic far more distinctive and impressive in the ultimate graphic arts software.
Mix &Match Skills

Exclusive hollow and split tool adds to more diversity of graphic design. You can determine graphic style from monogram, rainbow text to children doodle. You're free to mix and match tools and effects. Choose what works best for your brand and business.
Free Graphic Resource

Abundant graphic templates and resources are prepared. Resources are classified in categories and can be searchable by inputting keywords. You can find suitable vector in this graphic design tool for your cards, certificates, calendars, brochures and posters.
Graphic & Logo Design Software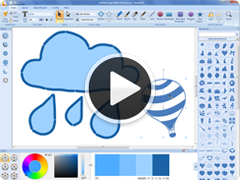 Logo Maker Professional provides sufficient tools and rich templates which offer a quick workflow when designing logos. English, Deutsch, Chinese traditional and four interface styles are available. Watch the video to view and click to see
interface of graphic design software.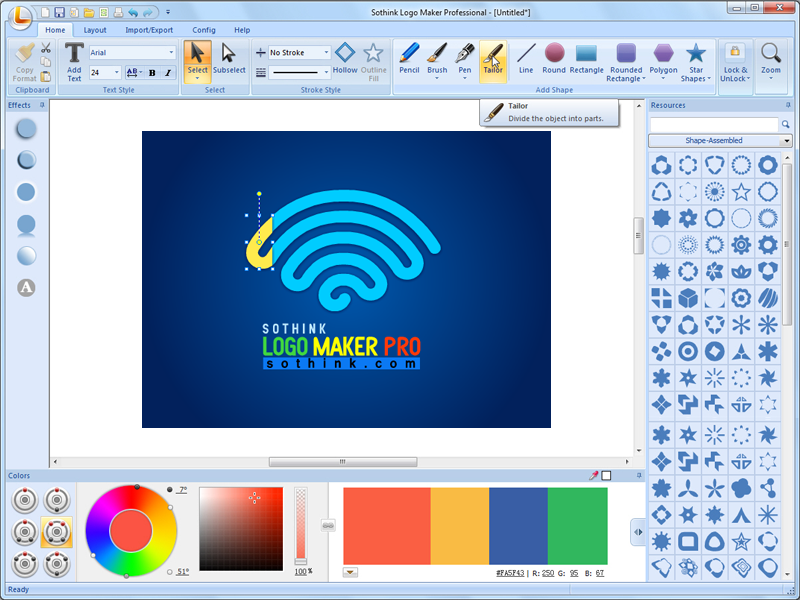 ×
Graphic Design
You can design and generate graphics from this graphic design software. You can adopt Pencil, Pen and Brush to draw any curves on canvas and cut or split shapes as any way you like. By defining canvas size from minimum 13*10 to maximum 2880*2049, you can apply the output graphics in kinds of aspects of business, like icons, cards, banners and posters and for any business usages. Learn more from Online Help and Version History.
Logo Design
Besides making graphics, you can create logos with this graphic designer software, we managed to provide you with solution that meets any requirement of logo design. Rich built-in logo templates will give you inspiration. You can modify templates by changing text, color and shapes or adding effects for logo. Output logos to different formats like JPG/BMP/PNG/TIFF/SVG for web or print without any quality loss. Learn more about logo design software.