Download Sothink SWF Quicker
Sothink SWF Quicker is the leading Flash Editor & Flash Maker. With this Flash software, you can edit SWF directly or make Flash from scratch with ease.


Supports Full Range of Flash Versions
Advanced Control of Flash by ActionScript
Rich Built-in Templates and Animated Effects
Powerful Flash Creation & Vector Drawing Tools
Diverse Import & Output Formats
Limitation of unregistered version
The unregistered version can only be used for 30 days, and the words "Powered by Sothink" will appear in the movies created by the unregistered version.

Please note:
A 30-day trial period is provided once the program is installed. If you do like this powerful tool, please buy it to obtain the registration number.
If you are trying an earlier version of Sothink SWF Quicker, once the latest program is installed, the trial time limit for the old version will become invalid, and you also can try this latest version for 30 days.


Download Components
Note: To use ActionScript 3.0 normally, please install the Adobe Flex SDK and Java Runtime Environment at first. You can choose to download and install them automatically when installing the SWF Quicker 5.x program, but to avoid unexpected network error, we recommend you to adopt the third-party downloading tool to download these two components from following addresses, and then install manually:
Download SWF Quicker from other websites
Instructions of Download and Upgrade
For registered users of V3.X or above


You can download and upgrade to the latest version for

free

.



For registered users of V1.0 ~ V2.6


You can download and try the latest version of Sothink SWF Quicker for 30 days, but if you want to upgrade to the latest version, you need to pay a price difference -

$15.95

for the upgrade. Please click here to know how to upgrade.

However, once you install the latest version to your computer, your original registration key won't work. So if you still want to use V2.6 after experiencing the new version, please download the old program again if it isn't available in your local machine, next, uninstall the new version and re-install V2.6, and then your original registration key will work again.

Main Features of This Flash Editor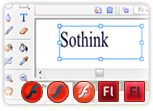 Full Range of Flash Versions
Supports importing and editing SWF file of Flash V6, V7, V8, V9 (CS3) and V10 (CS4).
Supports editing Flash elements such as Text, Shape, Movie Clip, URL, ActionScript, etc.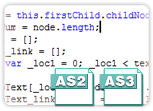 Advanced Control of Flash by ActionScript
An intelligent ActionScript Editor which supports Syntax Highlighting, Auto Completion and Dynamic Prompt is embedded in the Flash Editor.
Able to design interactive game with ActionScript 2.0/3.0 Class and Object Oriented programming.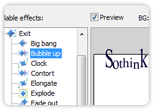 Rich Built-in Templates and Animated Effects
Over 60+ built-in animated effects and 7 Flash filters.
Abundant Flash templates of Flash Album, Banner, Navigation Button and Slide Show.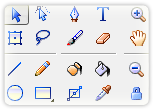 Powerful Flash Creation & Vector Drawing Tools
Provides Flash Creation function like timeline, shape design, Motion/Shape/Image Tween, and so on.
Provides Object Snapping, Pixel Snapping and Snap Alignment to align objects.
Full set of vector drawing tools, such as Rectangle, Pen, Brush, Eraser, Paint Bucket, etc.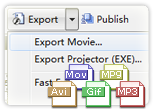 Diverse Import & Output Formats
Supports importing various kinds of media types, such as AI, MP3, MPEG, AVI, MOV, AVI, MPEG, WMV/ASF, MOV/QT, RM/RMVB, DivX/XviD, etc.
The rich output formats including SWF, EXE, GIF, AVI and Flash Lite (2.0, 2.1, 3.0).
Full set of vector drawing tools, such as Rectangle, Pen, Brush, Eraser, Paint Bucket, etc.

100% Clean - No need to worry about installing unwanted spyware or adware. Uninstallation is completely supported.


Life-time Free Support - Send an email to our customer service team at support@sothink.com whenever you need help.


Risk Free Guarantee - Shop safely in our secure online store. Your data and personal information are protected.
Product Info
File Size:

19.2 MB

Latest version:

5.6

Build number:

40876

Release date:

Jun 2, 2016

Uninstall:

Supported

System Requirements :

Windows 8
Windows 7
Windows Vista
Windows XP
Windows Me/2000
Windows NT4.0
Windows Server 2003/2008
Testimonials
"I've never been able to do what I wanted to with any other program. With this one I can do exactly what I set out to do within a few minutes."

"Some time ago, I was in need of editing some Flash SWF files, but couldn't afford a license for the whole software, and didn't even need it, so I started looking for a free software download. Instead of that, I found something even better - Sothink SWF Quicker, a good priced and fully featured tool that helped me get started really quick, so I solved all my problems and never looked back! "

News
Sothink SWF Quicker V5.2 is released.It is compatible with Flash CS5!
The Traditional Chinese version of Sothink SWF Quicker V4.5 is released.
Now order Flash SWF Decompiler and SWF Editor Suite with only $125.00


Save $39.94

.
Related Products