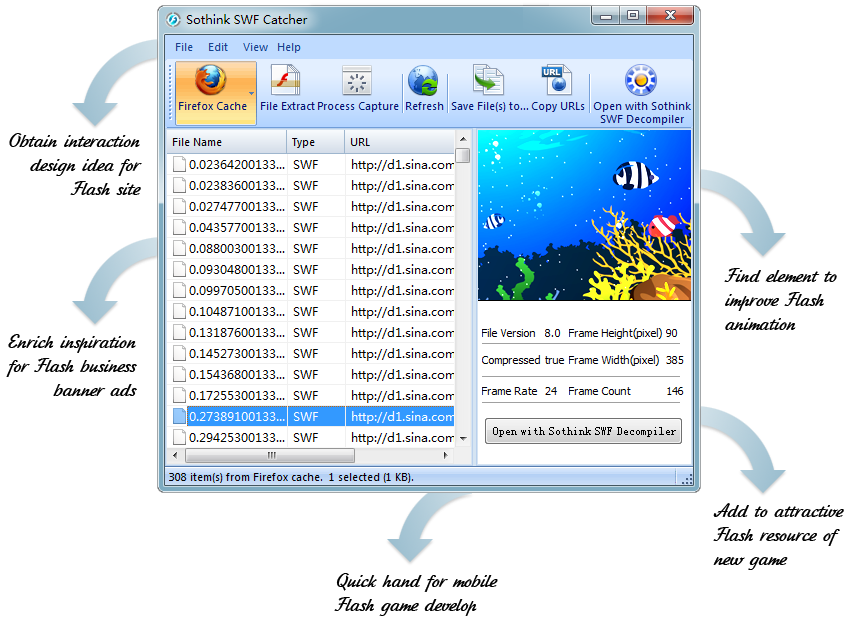 With Flash Saver Software, no Flash may get hidden from your eyes!
What's New
With Sothink SWF Catcher, you can capture Flash SWF from browsers cache, including IE, Firefox and Chrome and search Flash SWF from local files, like EXE,SWC,AIR,APK. You can spy Flash SWF from any current running process. More version history info!
Users' Review
"I used to collect beautiful FLASH, but applying them to my work is not easy. With the Flash Saver, I can easily save Flash from web pages, and then use Sothink SWF Decompiler to do more modifications."
David Green - Web Designer
Flash Capture Partner
To parse and decompile SWF, SWF Decompiler may give you a big hand. And you can save SWF into FLA in one click and it also helps you to learn and debug Flash SWF in quick way. Click to get more info about Flash Decompiler.
Capture Flash SWF You Watched

Detect and download all Flash SWF files. Save Flash SWF into local machine, from Flash banner to Flash game. You won't miss any Flash files watched with the Flash catcher. With this smart Flash saver, you can get any Flash and make Flash capture process as simple experience.
Save Flash SWF from Cache

Grab all Flash SWF from browser cache, IE, Firefox and Chrome are supported. No need to remember the URL since it will follow your path to keep track of all Flash SWF automatically. You just need to press Browser Cache to spy Flash SWF from viewing record of IE, Firefox and Chrome.
Search Flash SWF from Local Files

Scan Flash SWF in executable files from local machine, including AIR, APK, Flash EXE and SWC. Are you interested in Flash used in games or other applications on Android? If you have owned the relevant Android package (APK) on local, it can grab Flash SWF from it. Handy and fast.
Spy Flash SWF in Process

The smart Flash SWF downloader can run detection in any of current process after you clicked on Process Capture button. You can select different section in the process. When all Flash SWF has been listed in Flash SWF catcher, select to get instant preview. Press Save File to extract SWF.
Advanced Flash Capture Software Or Basic Browser Add-on?
| | SWF Catcher | Flash Downloader For IE/Safari/Firefox/Chrome |
| --- | --- | --- |
| Capture Flash Online | | |
| Search from Browser Cache | | |
| Spy from Local Files | | |
| Detect from Current Process | | |
| Free Life Time Support | | |
| Browser Required | No | Must Have |
How to install SWF Catcher?
Click on Free Download button to get and save Sothink SWF Catcher setup onto local machine. Double click on it to start installing process.
Define installing path on your machine for Sothink SWF Catcher. You can install it in any hard disk as you like. But you have to do it under administrator permission.
Check the options from install wizard to get free add-on for browsers, Safari, Firefox and Google Chrome are supported. Then follow wizard to finish installation.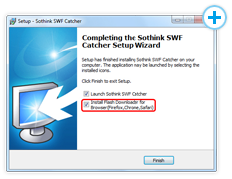 FAQ
What if I checked the option to install add-on for browser hasn't been installed on my machine yet?
Your install will still proceed with no problem. But those add-ons will not work temporarily. After the relevant browser has been installed properly, the add-on will appear automatically for use.
How to use SWF Catcher to capture Flash?
Search from browser cache. Select the relevant browser from Tool bar, and Sothink SWF Catcher will search within the browser cache. IE, Firefox and Chrome are supported.
Extract SWF from local machine. Click on File Extract on Tool bar and select target files to detect. EXE, AIR, APK and SWC(Flash Terms) are supported. Click on Reload to re-choose.
Detect SWF in current process. Click on Process Capture button, mouse over any highlighted area and click to capture. Press Esc to quit. Click on Recapture to re-select.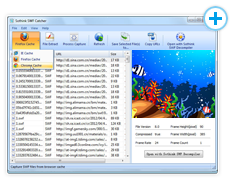 FAQ
How long will it take to finish loading all relevant Flash SWF?
It may get related to many factors. If your browser cache files are heavy with Flash, it may take some time to finish. It is the same situation when you are using File Extract or Process Capture feature. So please kindly wait for output result. For more info about usage, please visit Online Help.