jQuery Menu, Build jQuery Menu without Coding
The Attractive jQuery Menu for Website Navigation
jQuery menu is trend for website navigation recently. jQuery menu enables to use simple, cross-browser compatible jQuery to transform tree menus in clicks and display tree-like menu. Although, this module is similar to DHTML menus and JavaScript menus, it is different in a couple of key ways.

jQuery menu navigates website more naturally. Unlike DHTML menus, it separates the link from the expanding mechanism, just click once to follow the expanded links, and open menu tree .
jQuery menu is more stable than other tree menus. It usually creates tree menu in full on the initial page load, which makes sure navigation menu called successfully.
jQuery menu enable to be activated in a jQuery block for the menus that you specify, instead of activating the whole tree menus. To choose which menus you want to be active you just have to visit the admin.
Jquery menu is easily themable. Since it blocks only use a small number of styles, and don't use the default list styles. Also the important display elements are contained in themable functions so you can tinker with the layout if you like
With tree menu builder, you can easily add special stunning effects to jQuery menu trees when expanding or collapsing sub-menu; and some tree menus enable to execute powerful functions for website navigation, such as highlight menu, record status menu, expand or collapse sub-menu by text or image, etc.

Let's click the image to view these attractive jQuery menus, and try their powerful functions:

jQuery Menu

- Sothink Tree Menu

Tree Menu enables to create clear jQuery menu for website. The SE friendly JavaScript menu; cross-browser menu tree; fast-loading DHTML web menu; you can get all-in-one tree menu in clicks. 50+ free menu template & image library in program. Seamlessly integrate with DW, FP and EW.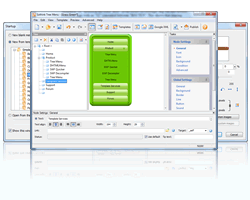 100% Clean - No need to worry about installing unwanted spyware or adware. Uninstallation is completely supported.


Life-time Free Support - Send an email to our customer service team at support@sothink.com whenever you need help.


Risk Free Guarantee - Shop safely in our secure online store. Your data and personal information are protected.
Quick Links