Effects Panel --- Sothink Logo Maker Professional
With this logo design software, you can easily set effects for the image & text objects, and make a stunning effect for logo images. Effects Panel is located in the left of the program, and it offers six styles for image & text objects. These effects include shadow, bevel, glow, reflection, gradient and text effect; and each effect style contains the various pre-set effects. You can apply these effects to object directly, or customize the effect to logo design.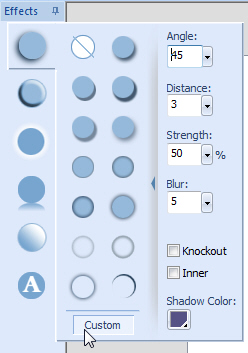 Tips:
If you want to hide the effects panel from the interface, you can click the small button .
After you hide the effects panel, there will appear a button highlighted by yellow color along the interface edge. Mouse over on it, the effects panel will reappear. But if you mouse out the panel, it will disappear again.

To fix the effects panel on the interface, just click the hide button again.
How to set effects for objects?