Command Menus - Sothink SWF Editor

File:
Open: Open an existing file.

Save: Save current document.

Save As: Save the current document as a new file.
Close: Close current document.

(Recent files...): List the files that you recently opened.
Exit: Exit the program.
Option:
Style: Click this option to choose the preferred skin for the program:
* Windows 2000;
* Office XP;
* Windows XP;
* Office 2003:
* Visual Studio.NET 2005;
* Office 2007(Blue Style/ Black Style/ Silver Style/ Aqua Style).
Language: Click this option to set a familiar language for the program.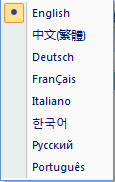 Help:
Online Help: Click to visit the online help.
About SWFEditor...: Click to display "About Sothink SWF Editor" information.