Download Sothink DHTML Menu
The top-rank drop down menu builder helps you create JavaScript menu, navigation bar without coding. Sothink DHTML Menu makes cross-browser menu from rich templates & preset styles. Directly design web menus in the various web editors; fully customize the menu style...

Easy to Create Drop Down Menu
Perfect to Navigate for Website
Fully to Customize Menu Style
Rich Templates & Preset Styles
Integrate with Web Editors, DW, FP, EW and Golive
Limitation of Trial Version
The unregistered version can be used in 30 days only for evaluation purpose. Before registration, it only supports generating THREE links for menu items when you preview or publish the menu.
Read a step-by-step guide on how to unlock Sothink DHTML Menu >>
Upgrade Sothink DHTML Menu
Download the latest version to get the best experience. Please check below to know upgrade steps:
Other Languages of DHTML Menu
Download the other languages of DHTML Menu to create drop down menu:
Download DHTML Menu Add-ons
Note: These extensions installation package do not contain any Sothink Widget. It will not install any Sothink Widget on your system but the extension itself.
To use a Sothink Widget, please download and install it additionally. If not, a pop-up message will prompt you to download it at first when you select the Widget from the menu entry.

Download DHTML Menu Resources

In order to ensure the software security, the customers may be regarded as the forbidden users to log in Sothink DHTML Menu, the program will popup an error dialog and then shut down. Follow the below method to solve the problem:
From an Administrator account, run the registry editor, RegEdit.exe. Navigate to HKEY_LOCAL_MACHINE\Software\Licenses. Right-click on that key in the left pane (the one that shows folders) and select "Permissions". Use the Remove button to remove all users and groups from the permissions box, and then click the Add button. In the "Enter the object names to select" box, type "Everyone" (without the quotes), then click the Check Names button -- the Everyone you just typed should become underlined, if the system recognizes it. Click OK to return to the main permissions dialog; you'll now see only one entry, for the every group. Below it, select the box for "Full Control - Allow", which should also turn on Read - Allow. Then hit the OK button to finish it.
Alternatively, once you've navigated to the proper key, just hit the keyboard's Delete button to wipe it out, and the program will re-create it with the proper permissions.
Drop Down Menu Builder Features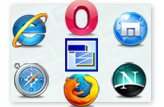 Perfect Compatibility
Full cross-browser compatibility: supports the latest version of IE (

Support IE9 Beta

), Google Chrome, Firefox, Opera and Safari (Support Safari 5 on Win/Mac).
This JavaScript menu builder can seamlessly integrate with Dreamweaver (

CS5 supported

), FrontPage, Expression Web and Adobe GoLive as add-ons.
Supports making database driven JavaScript menu with ASP, PHP, JSP, ASP.NET, ColdFusion and more.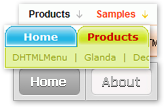 Diverse Functional Menu
Easily creates functional JavaScript menu, such as tab menu, highlight menu, scrolling menu, cross-frame menu, multi-level/multi-column menu, custom menu, floating menu, right-to-left menu, keyboard navigation bar, etc.
This DHTML menu builder is able to hide certain menu separators or items as needed.
Position web menu anywhere fixedly or relatively on webpage.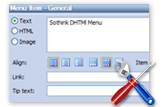 Flexible Customization
Customizes web menu properties, like font, icon, background, border, cursor, tool tip, surround, effects, alignment, transparency, size, etc.
Selects and edits images as icon, arrow, background and separator from Image Library and Background Library.
Easily adjusts the color, tint & brightness to edit the image or choose corners and edges separately for surround.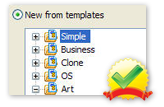 High Usability
This drop down menu builder offers over 100 templates, 30 styles and image library.
Enables to save background color of preview window in authoring files, which make it convenient for editing next time.
Publish wizard guides you to publish the drop down menu, JavaScript menu to website step by step.
Any HTML code can be used within the JavaScript menu item.
Supports W3C Valid XHTML 1.0.

100% Clean - No need to worry about installing unwanted spyware or adware. Uninstallation is completely supported.


Life-time Free Support - Send an email to our customer service team at support@sothink.com whenever you need help.


Risk Free Guarantee - Shop safely in our secure online store. Your data and personal information are protected.
Quick links
Bundle Discount

Create eye-catching DHTML drop down menus and tree-view menus for web navigation without JavaScript programming.

Buy for $99.00
SAVE $49.95
Feature Comparison between DHTML Menu and Tree Menu >>
Reviews
"This specialized program eases the process considerably with a no-nonsense interface that puts the necessary design and scripting elements at your fingertips."

"I can now create DHTML menus looking exactly how I want them, without having to wrestle with indecipherable javascript code."

Related Products
Recommend Products