Sothink Messenger

Sothink Messenger is a versatile LAN-based instant communication tool that offers what is the most useful in offices, including instant chat, message alert, email checking, and file transfer. A useful Messenger Server Admin tool allows you to adjust settings, manage log files, and perform detailed user searches.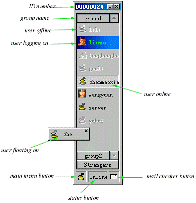 What can Sothink Messenger do for you
What can SourceTec Messenger do for you With other popular messaging tools, you can easily contact your friends or family via Internet. But how do you and your colleagues communicate in offices? Phone, e-mail or still ICQ? Are you concerned about the security of internal information or the speed of file transfer? SourceTec Messenger supplies user both the server and client programs. You can install the server on your LAN and build your own chat system. All is in your control!
Use few system resources.
Support multiple accounts on a single computer.
Receive and send message instantly.
Send a message to multiple users at one time.
Cha with others.
Customizable contact list. Foolproof Wizard for adding users to contact list.
Drag file from Windows explorer or desktop to the contact list to send it to the destination recipient.
Drag text from any word processor, text editor or Internet browser to contact list to send it.
Drag URL linkfrom any Internet browser to contact list to send it.
Show selected users as float windows to keep them visible even when the main window is minimized to the taskbar.
Support URL link in messages so the recipients can navigate to the specified URL link by a single click.
Change current online status (Away, Online, Off-line or Not Available).
Show user status in real-time (Away, Online, Off-line or Not Available).
E-mail and Internet browser integration.
Support multiple accounts in e-mail checking.
Automatically check e-mail at specified intervals.
View e-mail header (subject, sender, date, size)
Delete unwanted e-mail directly from the mail server.
Customizable sounds to all events.
Pop-up messenger viewer automatically upon incoming message even in full-screen mode
Review/manage archives of all messages, chats and file transfer at any time.
Customizable user icons.
Support rich format text.
Send off-line message.
System Requirements:
Computer to install Server program
Operating System: Windows 95 , Windows 98, Windows ME, Windows NT 4.0 , Windows 2000 (Windows NT/2000 Server is recommended)
Database: ODBC, MDB file database or Microsoft SQL Server
Computer to install client program
Operating System: Windows operating system
Software: None
Related Products
Support Platform

Win 95/98/Me/Win NT 4.0/Win 2000/Win XP
Recommend Products