Sothink SlidingMenu 2.0

Sothink SlidingMenu is designed to help you create a neat, efficient Java navigation menu applet for Internet or Intranet Web pages with no need of programming.

Sothink SlidingMenu guides users to generate a Java Menu applet. The configuration doesn't require any Java or HTML coding, so it is suitable for any web designers. With Sothink SlidingMenu, you could implement applets of various effects: Sliding Tree, Radio Buttons and other special effects.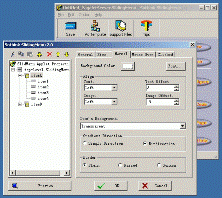 Features of Slidingmenu
Provide integrating module with FrontPage(also known as add-in).
Users can create and configure SlidingMenu within FrontPage by simply
clicking its button on tool bar.

Easy to use. Doesn't require any coding
Create neat, efficient multi-level sliding Java menu for your Internet or Intranet Web pages
Multi-level menu support
Three menu states property(mouse over, mouse click, normal)
Audio, image support
Support users to define web directory for files during configuration
Specify sub-menu sliding speed
Support item transparent function
Implement various effects
Sliding Tree, image maps, colour button,etc
Provides templates to make work easier
Specify the browser to preview
Preview the generated applet without quitting
User defined template support
Multi top-level menus support
Provide great text special-effects for item label
Clipboard support
Friendly operate interface with guild text on
Work with Sothink HTML Editor in a seamless integration way
Supply three ways to add Java SlidingMenu into web page
Related Products
Support Platform

Win 95/98/Me/Win NT 4.0/Win 2000/Win XP
Recommend Products