Sothink HTML Editor 2.5

Sothink HTML Editor Free Version (previous name is CutePage) supports code and visual editing modes as well as site management, built-in preview and file upload. Built-in visualized editing window. WYSIWYG editing forms, tables, frames, links, images, etc.

Built-in preview browser or pick the browser's button to go to the outside browsers.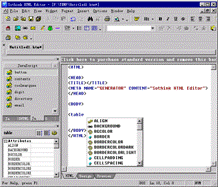 Limitation of free version and benefits for standard version
Limitation of Free Version
There is only one file can be opened and edited in Free version for each time.
There is a notice bar on the top of edit window.
A notice window appears and holds for 5 seconds when the program is started.
Cannot get technical support service.
Price: US$0.00
Benifits of Standard Version
The notice bar and notice window will be removed.
Simultaneously edit as many web pages as you like.
Users can share our free upgrade service.
Get technical support through email.
Make it possible for our team to make this software better.
Price: US$13.99 Buy now
New Features Add to Sothink HTML Editor 2.5
Auto complete the code, saving your time!
When you press a space key after a tag or after the equal mark "=" , there will be a box to show an attribute list of this tag. You can choose an attribute you want from the list instead of typing.
Tag's hint let you know the tags with ease!
When you move to a tag, you will see a yellow box popping out. It will tell you the main usage of this tag. So if you are not familiar with HTML code or forget this tag sometimes, Sothink HTML Editor's "tag hint" will help you to get it back.
Free web page space, get your own now!
Sothink HTML Editor's site manger with has provided a list for all these famous recommended web page space. Each one has general introduction and necessary information for uploading. If you have not a web page yet, follow Site Manager's publish wizard to get your own today.
New and good-looking interface!
On the basis of previous editor "CutePage", the switch buttons and toolbar in Sothink HTML Editor are more vivid.
Main Features
Integrated with Widget Tools
Coloring Code
Line listing
Bookmark the line you are editing
Build-in Browser
Two Editing Modes
Dockable toolbars
Hide or show certain parts of the toolbar
Full-screen mode
A Table Designer
A Link Wizard
Frame Designer
E-mail Link Wizard
Special Characters Inserting
Frame Designer
Testing with the Browser(s)
Unlimited Undo & Redo Support
Hide or show certain parts of the toolbar
Full-screen mode
A Table Designer
A Link Wizard
Frame Designer
E-mail Link Wizard
Special Characters Inserting
Testing with the Browser(s)
Unlimited Undo & Redo Support
New Features Add to Sothink HTML Editor 2.5
Support Platform
Win 95/98/Me/NT 4.0/2000/XP (IE 4.0 or above required)
Related Products
Support Platform

Win 95/98/Me/Win NT 4.0/Win 2000/Win XP
Recommend Products