Tips That You Should Consider When Create SWF by Yourself
Following are some tips for Flash design, please consider these suggestions when you create SWF:
1. Use SWF Object
SWF Object is used to integrate your .swf into the browser without having Internet Explorer 7 paint a disgusting border around it.
2. Test on slower CPUs
Typically, if you're the kind of guy that does a lot of design or web work, you've got a machine with a decent amount of muscle on it. Just because your computer can run your .swf file flawlessly, doesn't mean that others will as well. Test your site on what you think the lowest common denominator will be.
3. Apply Ease To All Tweening
Ease is what's used to accelerate or decelerate tweens when create SWF. Adjusting these accelerations for each tween will be noticeable and make your Flash look more elegant and professional.
4. Apply Feathered or Anti-Aliased Masks
These masks help you stray away from the normally boxy looking masks. Apply these types of masks in moderation as they do eat up CPU.
5. Raster vs Vector
Be well aware of the benefits of raster images versus the benefits of vector images when create SWF. For the sake of CPU time, I prefer GIFs or JPGs. I know what each pixel looks like and I won't leave it to Adobe Flash to render my vector work.
6. Don't Use Flash for the Sake of it
Some client's are caught in this web where they have to do what's currently hip. Keep in mind when create SWF that Flash is something that has to suit your corporate image, your target demographic and what it is you're advertising. Flash is tedious work, so be sure you need it before you develop it.
7. Flash Splash Pages are Bad
Well, typically just splash pages are bad, but flash pages are just as bad. You're forcefully putting an extra step between the user and the information he/she desires. Consider making it a banner on an information filled landing page.
8. Know That Not All People Love Flash
Not everyone wants to sit down for 30 seconds and watch a Flash intro you've made. Know that Flash sometimes has to be kept short and sweet. Remenber to keep your animations and your overall flow relatively quick when create SWF.
9. Watch Your Pixels
Adobe Flash gives you the ability to place objects on fractions of a pixel. This may work out well, but it does leave some rendering up to Flash and your graphic might not come out as expected, also keep this in mind when create SWF.
10. Optimize Your Images
File size and download time are critical to visitors. Be sure you know how to optimize your images in and out of Flash.
11. Avoid Organic Animation
Unless you're good at it (or an animator), avoid animations that replicate real life motions when create SWF. Examples can include simulated content being thrown or splashing text. This may appear crystal clear in your mind and in concepts but will be hard to work with, like.. throwing.. content, or a water splash.
12. Preload Your Flash
What may seem like a file size that won't need a preloader might be a burden on someone else's connection. Besides, it helps with syncing and can speed up some animations. Be careful not to have a bloated preloader when create SWF.

13. Know Your Way Around Basic ActionScript
Let's face it, design and development require two different ways of thinking: left brain thinking and right brain thinking. If you're a designer, try to go a little bit more indepth with ActionScript when create SWF. This can be the simplest IF/ELSE statements and simple variable declaring.
14. Know What's Happening Around The Flash
If you don't have any idea where your Flash piece is going to be displayed, you might be a little surprised when you see the outcome. Be sure to have an idea of the palette or design elements that will be around your piece when create SWF.
15. Don't Ignore Usability
Just because you enjoy throwing your mouse around a page finding fun tips and tricks doesn't mean other people will be as technologically thrilled by your creation. Test your creation on family members and see how it works out.
That's all. Hope that helps!
Sothink SWF Quicker is the only SWF Maker that not only helps you create SWF from scratch, but also enables you to import and edit existing SWF files directly. 60+ animated effects, 7 popular Flash filters and advanced Flash editing tools will help you create professional Flash animations with ease.

Diverse output formats will enable you to apply your Flash works everywhere conveniently. This Flash Maker supports Flash 6/ 7/ 8/ 9/ 10, Flash CS5; Flash Lite 2.0/2.1/3.0 and Actionscript 2.0/ 3.0.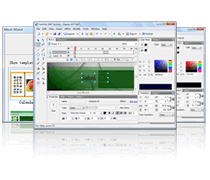 100% Clean - No need to worry about installing unwanted spyware or adware. Uninstallation is completely supported.


Life-time Free Support - Send an email to our customer service team at support@sothink.com whenever you need help.


Risk Free Guarantee - Shop safely in our secure online store. Your data and personal information are protected.