Easily Import and Edit SWF File by Flash Animation Software
Find a good SWF Editor to edit SWF file
Sothink SWF Quicker is an advanced SWF editor and a Flash maker as well, which makes it very easy to edit SWF file and brings a lot fun for you to create a brand-new Flash artwork. This useful Flash editor comes with the wild support to various Flash versions and the great capability to edit SWF file and make Flash games, Flash movies, interactive animations, slide shows, etc.
Main Features:
Wild Support to Flash Versions
Support to import and edit SWF file made by Flash V6, V7, V8, V9 (CS3), V10 (CS4) and Flash CS5.
Complete Support to Flash Elements
Support to edit SWF file elements such as Text, Shape, Movie Clip, URL, Action Script, etc.
Intelligent Action Script Editor
It supports Syntax Highlighting, Auto Completion and Dynamic Prompt and it is able to design interactive game with Action Script 2.0/3.0 Class and Object Oriented programming.
Abundant Flash Templates and Animated Effects
Over 60 animated effects and 7 flash filters plus rich Flash templates are available for creating Flash album, banner, navigation button and slide show.
Great Flash Creation and Editing Capabilities
Provide Flash creation function like timeline, shape design, Motion/Shape/Image Tween, Object Snapping, Pixel Snapping and Snap Alignment, etc. and the full set of vector drawing tools, such as Rectangle, Pen, Brush, Eraser, Paint Bucket, etc.
Rich Input and Output Formats
Support to import various media formats like AI, MP3, MPEG, AVI, MOV, AVI, MPEG, WMV/ASF, MOV/QT, RM/RMVB, DivX/XviD, etc and export formats such as SWF(including 10.0), EXE, GIF, AVI and Flash Lite (2.0, 2.1, 3.0).
Perfect Compatibility with OSs
It works well with Windows 7, Windows Vista, Windows XP, Windows Me/2000, Windows NT4.0 and Windows Server 2003/2008.
Perfect Flash Edit and Design Solution
As one of the best Flash animation software to create and edit SWF file, Sothink SWF Quicker offers the perfect solutions to:
Business Demonstration
This SWF editor provides various templates with different themes and styles to easily create Flash Album, Flash Banner, Flash Navigation Buttons and Flash Slideshow.
Build Game Site, Make a Game and for Entertainment
This SWF editor provides the perfect way for game fans to build their own game site or to make the new game; it is also a very useful utility for artists, mass Flash fans and all-level customers to make Flash album, Flash calculator and anything that can bring fun and joy.
Create Special Visual Effect
This SWF editor can achieve a lot of impressive visual effect regarding picture and text using motion tween designing and Action Script editing. This intelligent motion analysis and full action support technology will definitely please your eyes and surprise the audience.
How to edit SWF file with Sothink SWF Quicker?
Sothink SWF Quicker is the quickest and most powerful solution allows you to edit SWF file! Please follow below steps.
1. Launch your Sothink SWF Quicker;
2. Go to "File" -> "Open" in the menu bar, and import the very SWF file in your local machine;
3. After the SWF file is imported, you will see all the SWF elements are extracted and displayed on the stage, timeline and library;
4. Find the Flash elements that you want to edit, and replace, add, or modify the elements as you like.
5. Export the new SWF file. That's OK!
It's so easy to edit SWF file with this professional Flash editor, isn't it? Please give a try.
Download suggested SWF Maker >> (30-day free trial)
Sothink SWF Quicker is not only a SWF Maker that supports creating professional Flash animations from scratch, but also a SWF Editor which enables you to import and edit SWF file directly. 60+ animated effects, 7 popular Flash filters and advanced Flash editing tools will help you create professional Flash animations with ease.

Diverse output formats will enable you to apply your Flash works everywhere conveniently. This Flash Maker supports Flash 6/ 7/ 8/ 9/ 10, Flash CS5; Flash Lite 2.0/2.1/3.0 and Actionscript 2.0/ 3.0.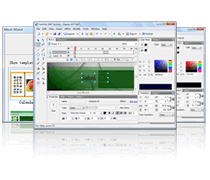 100% Clean - No need to worry about installing unwanted spyware or adware. Uninstallation is completely supported.


Life-time Free Support - Send an email to our customer service team at support@sothink.com whenever you need help.


Risk Free Guarantee - Shop safely in our secure online store. Your data and personal information are protected.