Insights for Adobe Creative Suite CS5
Highlights on the new features of Adobe CS5:
Adobe Creative Suite CS5 includes more than 250 new features that are going to make work of design, print and production professionals easier, faster and more efficient.
Kevin Lynch, Adobe CTO shared a few insights to this new release of Adobe creative suite CS5. He also shared his views on Apple's revised SDK license and what it means to millions of Flash developers.
- Social Computing Innovation: Allowing closer team collaboration within the Creative Suite tools
- Cloud and client Innovation: New cloud-based services such as Omniture for optimizing content and apps to drive greater revenue
- Multiscreen features: Enabling authoring for upcoming releases of Flash Player 10.1 and AIR 2 and making it easier for developers to target multiple devices and form factors
Thoughts on new restrictions from Apple
Kevin also pointed out that despite Apple's tightening restrictions on what technologies developers can use for creating apps for iPhone/iPad OS, multiscreen is spreading beyond Apple's devices. We will see a wide range of excellent smartphones, tablets, smartbooks, televisions and more coming to market. Developers can leverage the Flash Platform to create and deliver rich content and applications across a variety of these devices.
Also, the Packager for iPhone/iPad is just one of 250 amazing new features in CS5. Be sure to tune into the global webcast on Monday 8am PDT at https://cs5launch.adobe.com/ and find out all the details.
Free Upgrade Offer for Adobe Creative Suite CS5 Compatible SWF Decompiler
Upgrading to the upcoming SWF Decompiler V6 will be charged. However, now there is a special offer for new users: If you order Sothink SWF Decompiler after May 1st, 2010, you can upgrade to the Adobe CS5 compatible new version for free.
- Easily decompile SWF of Adobe CS5

Sothink SWF Decompiler helps you to convert SWF to FLA, SWF to FLEX, and easily extract Flash resources like images, sounds (mp3, wav), videos (flv), ActionScript, etc.

SWF Decompiler V5.5 supports Flash 6/7(MX 2004)/8/9(CS3) /10(CS4) and ActionScript 3, and globally search all ActionScript is supported. It is multilingual and user-friendly.
More features >>

The core new feature of the upcoming SWF Decompiler V6 is the compatibility with Adobe Creative Suite CS5, and it is estimated to be released in July, 2010.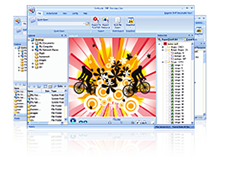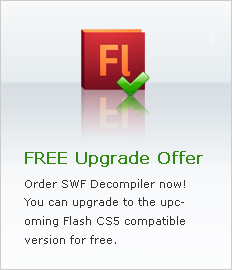 Awards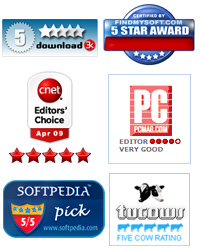 System Requirements

Windows 7 32/64-bit
Windows Vista 32/64-bit
Windows XP 32/64-bit
Windows Me/2000
Windows 98/NT 4.0
Windows Server 2003 32/64-bit
Windows Server 2008 32/64-bit