How to Select a Template in Sothink Logo Maker?
If you want to design a professional logo without much time, choosing a right template logo is a good choice. Sothink Logo Maker offers various re-editable templates for you which are divided into seven categories: Business, Technology, Organization, Fashion, LetterBased, Badge and Festival.
Just follow this guide, you will learn how to select a right template for your own logo designing.
Once you launch the program-Sothink Logo Maker, a "New From Template" window will pop up.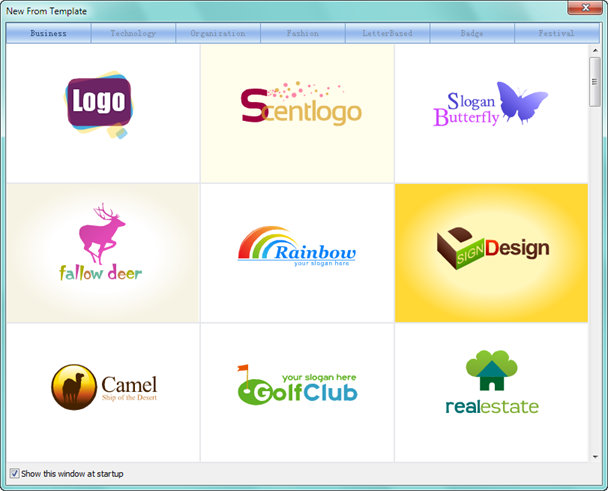 You will see six categories tab on the top of the window. When you click each different tab, the templates belong to this category will be listed below. So you will see different templates when you stay on different category tab.
For example, the "Technology" tab offers rich templates which are suitable for technology field.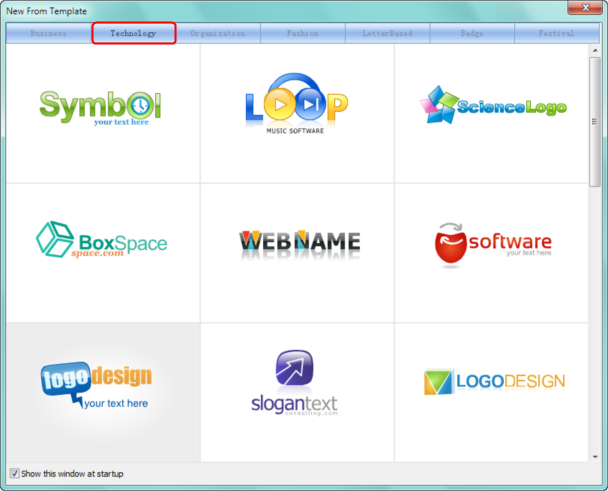 There are lots of logo templates which are suitable for organizations under the "Organization" tab.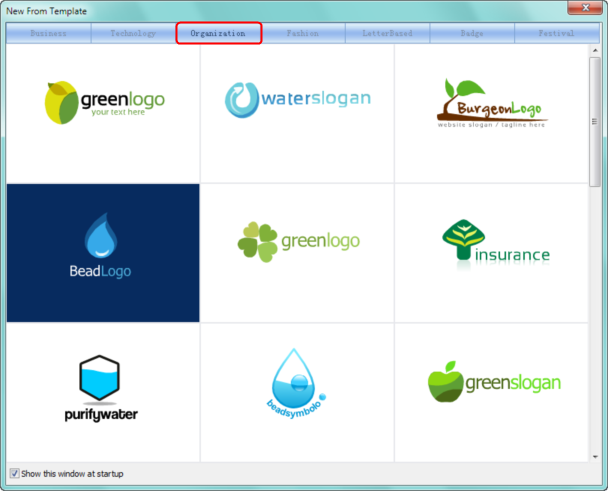 There are lots of fashionable templates which are widely used in the logo design field under the "Fashion" tab.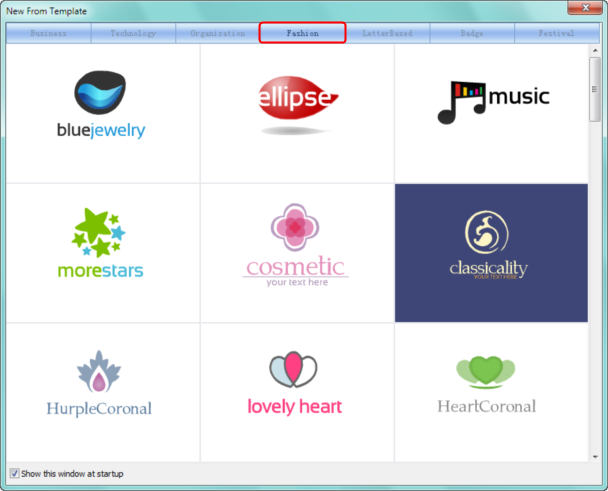 Just as its name implies, the "Letterbased" category offers many letter-based templates.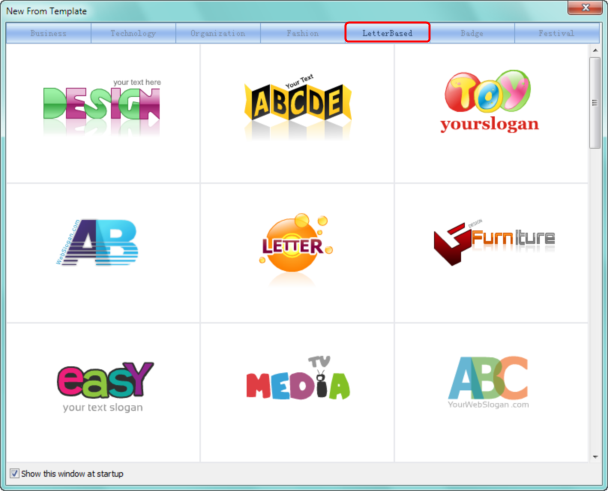 The templates belong to the "Badge" tab are some well-designed logos with the shape of badges.
The templates under "Festival" tab are all logos which are specially designed for various of festivals.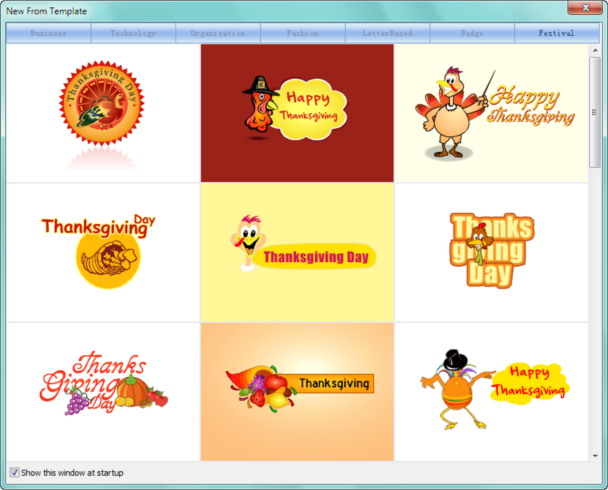 To select the template, what you just need to do is to click the preferred template and it will appear on the canvas. For example, we click a template from the "Fashion" tab, the canvas will become: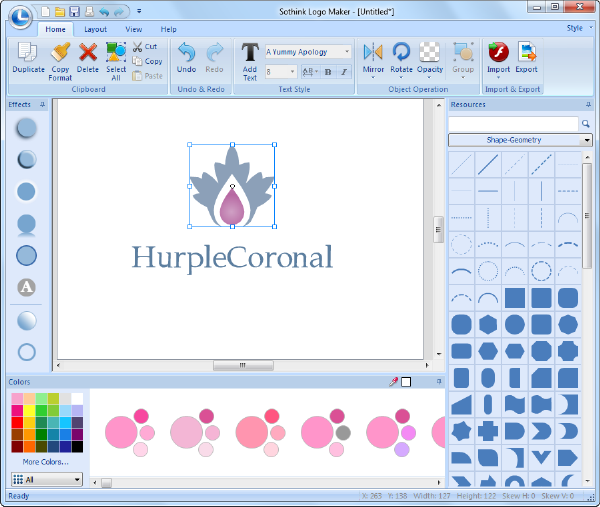 Meanwhile, once you select one template, the Template window will be shut off. For re-opening it, just go to "Menu" and select "File > New From Template".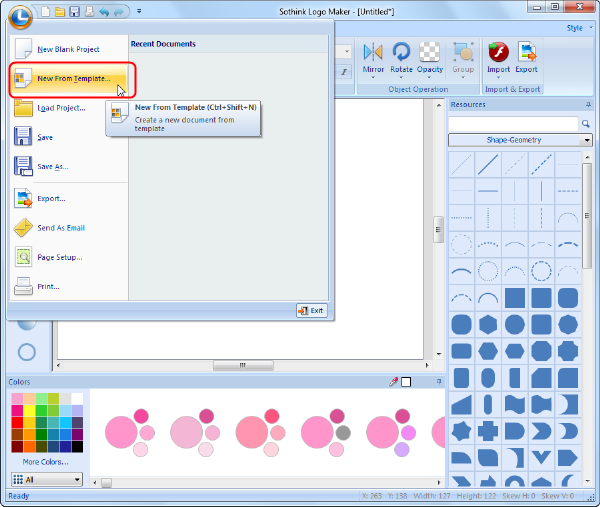 And if you do not want this window to pop up at start, you can uncheck the option below.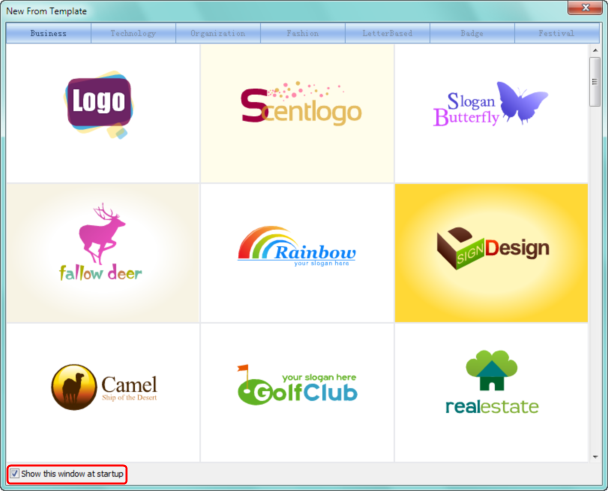 Start logo design for web or print from fancy logo templates, and then make full customization to logo appearance.

Sothink Logo Maker offers all essential resources and enables you to finish a great logo in just 5 minutes. To conveniently get a professional looking, master-class auto color matching and exquisite one-click text/graphics effects are provided. Instant preview is available in all logo design operations. Rich output formats: JPE, BMP, PNG and TIFF.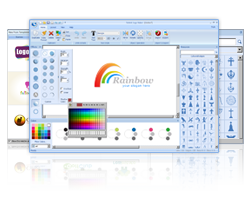 100% Clean - No need to worry about installing unwanted spyware or adware. Uninstallation is completely supported.


Life-time Free Support - Send an email to our customer service team at support@sothink.com whenever you need help.


Risk Free Guarantee - Shop safely in our secure online store. Your data and personal information are protected.
Quick Guide
Getting Started
Step One - Select
Step Two - Edit
Step Three – Save & Export