Design a Beautiful and Unique Logo in 5 Minutes
A colorful apple with a bite, what does that mean to you? For most people in the world, the first thing that appears in their mind should be Apple Inc. That's it! The logo is so important for people to recognize a company and distinguish it from others. Just can't imagine a successful company with an indistinctive logo.
Generally, there are three ways to design a logo for your business or website:
Use design software like Adobe Photoshop to start design from scratch
Hire a professional logo designer and pay for the design
Find a logo maker that requires no graphic design skills
For method one (if you are an expert of design software, please ignore this paragraph), firstly you have to take great efforts to search as many logo samples as possible for reference, and choose one which you think is the most suitable for your business or website, and start to design finally. It is easier said than done, and you may feel it quite difficult to turn a dim idea in your mind into a real design.
For method two (if you are rich enough, please ignore this paragraph too), it is probably the most expensive choice. You need to describe your business to the designer, and name your preferred color and font, which may take you a lot of hours, especially in case you can't talk face to face. Given enough communication and time, a high-quality logo is finally delivered while it is often unfortunately not the one you want exactly.
As far as I'm concerned, most people have their own ideas of what they want, but don't have graphic designing experience or don't want to pay much for it. In this case, an easy-to-use logo maker is required. Let's imagine a logo design software with dozens of samples and templates, well designed images, professional preset color combinations and special effects. What you need to do is to select a template, select your favorite graphic, color and type in the text. All by a few clicks, wouldn't it be nice?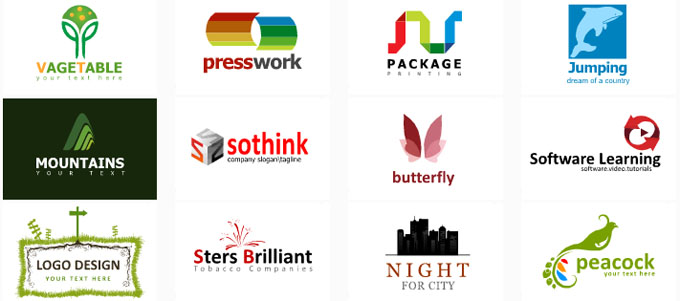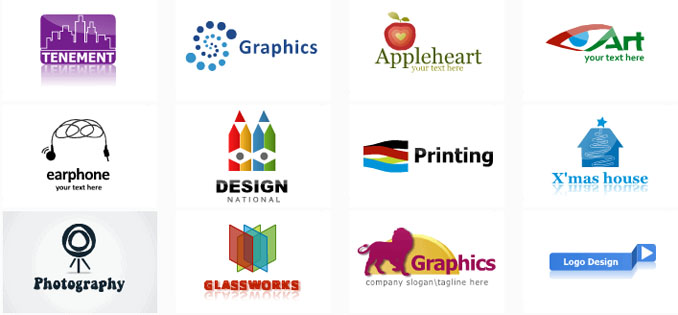 See the logo designs above? How do think if you are able to customize them into your own logos by easy logo maker?
Here I'd like to share with you a logo design tool - Sothink Logo Maker - which remarkably saves your time and money as follows:
It is intuitive and extremely simple to use
It offers rich logo design templates (as seen in the above showcase)
It provides well designed images for logo design
It provides preset color & effect styles
All the features of Sothink Logo Maker will satisfy your needs and turn your idea into an ideal logo.
Try It Now:
Download Sothink Logo Maker to design logo and install the logo creator on your computer.

Choose Logo Template
Launch Logo Maker, and choose the following logo from plenty of logo design templates.



Search and Replace Logo Graphic

In the Resources panel, search "flower" to find all graphics related to "flower".

The search results are below:



Click the graphic "bird" of the logo template on the canvas, and then click a flower in the Resources panel to replace the bird.



| | |
| --- | --- |
| Before | |
| After | |


In the Color&Effects panel, select an effect (as indicated in the below) for the flower.



| | |
| --- | --- |
| Before | |
| After | |



Modify Logo Text

Double click logo text to change the text content; click the "custom" button to change the font type and font size as you like.



| | |
| --- | --- |
| Double click to change text | |
| Custom Button | |



Layout the Logo Text and Logo Graphic

Directly drag text or graphic to the position you'd like.


Finally a unique logo design is done.


---
Features of Logo Creator
Below are some of the benefits of choosing Sothink Logo Maker to design logo.
Simple: You can get started easily with this logo maker to DIY your own logo without any professional logo design experience.
Unique: Rich templates, color & effect styles give you endless amount of logo design possibilities.
Professional: Well designed built-in templates and logo images ensure you a professional-looking logo.
Wide Use: This logo maker enables you to design company logo, button, banner, header, icon and signature for website, blog, forum, email and more.
Free Trial: A 30-day free experience is available to help you make purchase decision.
- Fast design logo for business, company

Sothink Logo Maker upgrades your logo design experience by offering 190 templates, 2500+ searchable vector graphics and 40+ text fonts. Besides, there are 400 well-chosen color schemes filtered by color and category which keep you from complicated color palettes and color matching rules.

Effects like gradient, shadow, bevel, glow, reflection & hollow can be accessed by one click. You can also import external SWF files and extract vector graphic elements for reuse.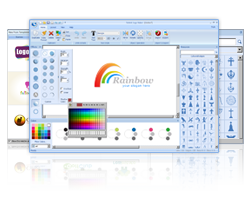 100% Clean - No need to worry about installing unwanted spyware or adware. Uninstallation is completely supported.


Life-time Free Support - Send an email to our customer service team at support@sothink.com whenever you need help.


Risk Free Guarantee - Shop safely in our secure online store. Your data and personal information are protected.
Quick Links