Logo maker for business, identity from logo maker
Make the Most of a Logo Maker to Build Your Visual Identity
Logo design is the first step in building your visual identity. For company or business, the integrated visual identity maybe includes Logo design, letterhead, business card, package and brochure, etc. It is crucial to make a good first impression that all stationery packages keep the same logo design and consistent style.
As we know, logo maker can fast design professional logo, but how to design other visual identities? The answer is still logo maker. You can design all the visual identities with logo maker, take Sothink Logo Maker for example to learn making letterhead, business card, package.
With Sothink Logo Maker, the below logo design is finished:



Design letterhead with logo maker
Letterhead is a sheet of stationery with name and address of the company printed at the top, and it is the foundation of your professional business identity. Letterhead is usually paired with matching custom printed envelopes, note pads and labels. In Sothink Logo Maker, you can adjust the canvas size as letterhead size; and input the company info or company slogan to design a decent letterhead.
| | |
| --- | --- |
| | Canvas Size |
| | |
Design business car with logo maker
Business cards are cards bearing business information about a company or individual. They are shared during formal introductions as a convenience and a memory aid. In Sothink Logo Maker, you can adjust the canvas size as business size; set the canvas background as light blue, and input the company info or company slogan to design a business car.
| | |
| --- | --- |
| | Canvas Size |
| | |
Design package with logo maker
Packaging refers to the process of design, evaluation, and production of packages. As a well-known company, a package with company logo will enhance the reputation, and make the people get the culture and product info from your company. To design package, you need to prepare the package image. In logo maker, set the canvas size as this image size; import the prepared image into canvas; choose the logo design and perform the command "Send Forward" to make logo show on the package image.
| | |
| --- | --- |
| | Canvas Size |
| | |
After exporting letterhead, business car and packages by logo maker, maybe you want to print them. Just open this letterhead in any image viewer or image editor, and click the command "Print" to print the letterhead image.
- Fast design logo for business, company

About Sothink Logo Maker

It is an intuitive and extremely simple logo creator for you to design logo in minutes. You don't have to be a professional logo designer to make high-quality company logo, business logo, web signature, button, icon, etc.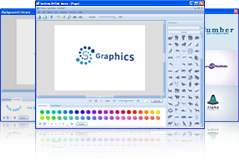 100% Clean - No need to worry about installing unwanted spyware or adware. Uninstallation is completely supported.


Life-time Free Support - Send an email to our customer service team at support@sothink.com whenever you need help.


Risk Free Guarantee - Shop safely in our secure online store. Your data and personal information are protected.